Have Russia's Revolutionaries Gone Soft?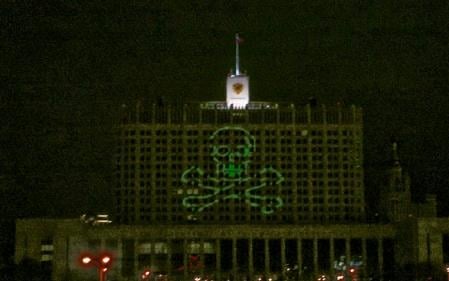 Exiledonline's intrepid Yasha Levine writes about an unusual protest by an anarchist group called 'War':
On the night of November 7, a group of them set up a laser on top of a building across the river from the Russian White House ' that's the place where the prime minister carries out daily his business ' and projected a 150-ft. wide toxic green skull and bones on its facade.
The stunt was meant to commemorate the anniversary of the Russian Revolution, with the laser beam symbolically standing in for the revolutionary signal shot fired from the Aurora cruiser.
Sound alright? What's more, the 'War' collective gave a menacing nod to their inspiration, Nestor Ivanovich Makhno, a brual anarcho-communist guerrilla leader turned army commander who led an independent anarchist army in the Ukraine during the Russian Civil War. Yet, that is precisely what made Levine a little sad:
This was one of those non-violent and non-confrontational attempts at political change through art. Laser art, probably to techno. It really put Russia's rich history of revolutionary violence to shame.
He may have been right about the techno; the crossbones projected on to the White House bore an uncanny resemblance to electronica musician Dan Deacon's trademark green skull.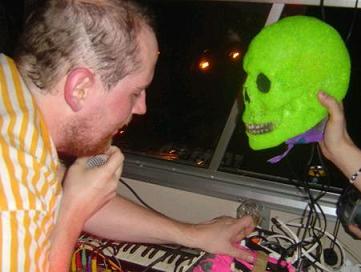 On the other hand, is it really realistic to expect any post-1968 revolution, in Russia or anywhere else, to be un-ironically violent? It may not necessarily be that bad; the last thing we need is a return to the dour terrorism of Lenin; class war with a Calvinist work ethic.
Crystal Cat as the new Internationale, anyone?
[kml_flashembed movie="http://www.youtube.com/v/vFlBJ1xZK10" width="425" height="350" wmode="transparent" /]