Border Issues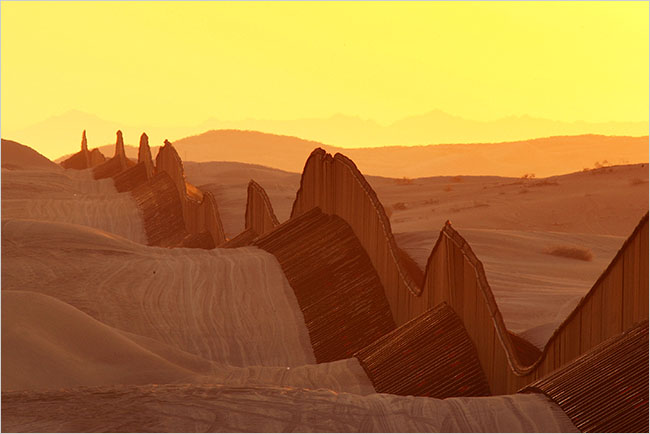 United States Secretary of State Hillary Clinton travelled south this week to ease relations with Mexico. The US-Mexico relationship is increasingly characterized by trade, drugs and violence.
Clinton praised President Felipe Calderón's efforts to reduce corruption and fight drug cartels, tried to alleviate concerns over a recent decision to scrap a pilot program allowing Mexican trucks to travel on US roads and took responsibility for America's role in the violent narcotics trade.
"Our insatiable demand for illegal drugs fuels the drug trade.

"Our inability to prevent weapons from being illegally smuggled across the border to arm these criminals causes the deaths of police officers, soldiers and civilians."
An estimated 90 percent of guns seized from crime scenes or drug traffickers in Mexico come from the United States and 90 percent of illegal drugs entering the US pass through Mexico. Over 7,000 Mexicans have been killed in related bloodletting since January 2008.
Mexico is not typically considered a rising power. In fact, Washington continues to mollify Mexican concerns that US officials view Mexico as a narco- or failed state (or runs the risk of becoming one).
In January, the US Joint Forces Command published a study arguing that the Mexican government is under assault by gangs and cartels and the internal conflict could threaten the country's stability.
"In terms of worst-case scenarios for the Joint Force and indeed the world, two large and important states bear consideration for a rapid and sudden collapse: Pakistan and Mexico."
Despite Clinton's best efforts, worries were immediately expressed following the reported choice of Carlos Pascual as the new US ambassador to Mexico. Mr. Pascual, a vice president of the Brookings Institution and former ambassador to Ukraine, has written extensively on state failure and post-conflict stabilization.
Clinton denied the Obama administration believes Mexico will become a failed state. In Washington, the director of national intelligence, Dennis Blair, added, "Mexico is in no danger of becoming a failed state."
President Barack Obama will visit Mexico next month and continue the diplomatic offensive to ensure a strong partnership. Mexican officials hope he will seek to improve trade and further articulate US efforts north of the border to reduce illicit drug flows and the associated violence.
For more, check out the FPA's blogs on Mexico and Latin America.
Photo from David McNew/Getty Images.