The Hemingway connection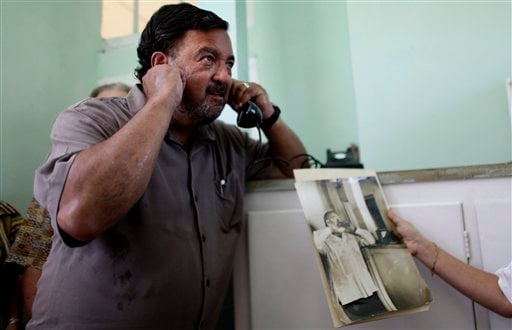 "I think enhancing cultural and artistic and educational ties is a prelude to diplomatic and commercial ties. It always happens that way… I'm for enhanced tourism travel for Americans."
New Mexico Governor Bill Richardson spoke these words to Associated Press journalists in Cuba, where he is this week, while he was on a tour of American writer Ernest Hemingway's former home in San Francisco de Paula, east of Havana. On behalf of the state of New Mexico, Governor Richardson donated a replica of the vintage telephone Hemingway used in that home (the photo above shows Richardson imitating a picture of the late author on the phone).
His point is well-made: although Ernest Hemingway is a beloved American author whose home was preserved as a historical site and made into a fascinating museum, few Americans can freely visit it because of the travel ban. Hemingway is one of the bridges between the United States and Cuba—one his native land and the other his adopted home. His writings and legacy compose an important cultural commonality that inevitably links the countries and could serve to bring them together, poco a poco.
Richardson's gift to the curators is a symbol of just that: oceans apart, the telephone and the home are less impressive than they are together in evoking nostalgia for the mutually respected Hemingway. Cooperation creates something more than each country had alone.