$2 Billion for Solar
President Obama announced a major commitment to solar production this morning:  loan guarantees to large solar power facilities –  a 280 MW concentrated solar power plant (CSP) and two photovoltaic (PV) factories, with a combined output of 840 MW annually.  See this fact sheet from the White House.  The CSP plant will be built by a Spanish company, Abengoa, in Arizona, and the two PV manufacturies by Abound in Colorado and Indiana.
We drove by one of Abengoa's facilities last summer, the first commercial solar tower in the world.  It is an extraordinary sight.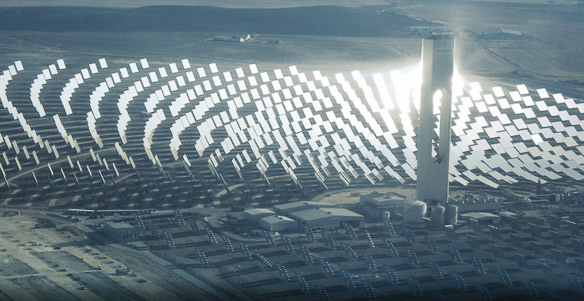 The President talked in his address this morning about the importance of these projects for jobs.  "These are just two of the many clean energy investments in the Recovery Act. Already, I've seen the payoff from these investments. I've seen once-shuttered factories humming with new workers who are building solar panels and wind turbines; rolling up their sleeves to help America win the race for the clean energy economy."  The part of his address about the solar projects and clean tech jobs is from 1:50 of the video here to about 3:50.  Good stuff.