In Russia, e-Mail Checks YOU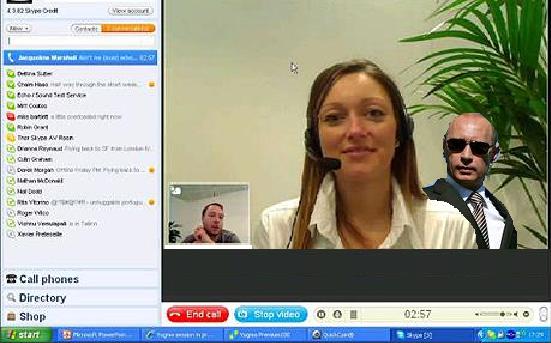 All of us Skype-addicts can breathe a sigh of relief: No, the FSB will no longer ban the free online phone service in Russia.
But the (justified) outrage over the government's bungled plan to outlaw Skype and GMAIL overlooks some important context: Electronic communications are already rountinely compromised by most of Russia's neighbours and democratic counterparts.
The EU has wanted to tap skype calls for years; the German government has been at it; the US government is paying freelance hackers millions to listen in on skype calls while China and the UAE have banned the service outright.
And let's not forget Google's self-imposed censorship in China.
Perhaps the most egregious eavesdropper has been the US, where security services have been openly spying on citizens' electronic communication since 2001.
In fact, private mobile phone and internet giants like Comcast, Yahoo! and Verizon have been charging US agencies millions of dollars to secretly access the accounts and conversations of their unwitting customers. No warrants, no courts, no questions asked!
When an academic filed a freedom of information act request to get these price lists, "Verizon and Yahoo intervened and filed an objection on grounds that, among other things, they would be ridiculed and publicly shamed were their surveillance price sheets made public".
America's second largest cell phone company let FBI and CIA officials in on their customers' private calls 700 times from 2005-2007 alone! And, perversely, it claims it has a right to do so under the Freedom of Speech amendment of the US constitution!
All this is not to say that Russia is justified in repressing the web; just that there's nothing uniquely Putin-KGB-authoritarian-evil about something most other countries are also doing.
That, however, doesn't make it any less wrong. If anything, the bottom line is that Russia need not bother shutting down skype and google: as a Google rep was quoted saying: if the FSB wants to eavesdrop on its citizens using those services, it should just ask!
Russia may have set this whole thing up as a choreographed good cop/bad cop play. Or, the Kremlin may have used the threat of a worst case scenario (banning gmail and skype) to make relatively more palatable a future law restricting or wiretapping, but not outright suppressing, the internet services.
But however badly the incident reflects on Russia, it also brings home the hypocrisy of US/EU demands for internet openness without the concomitant guarantees of internet-privacy.
After all, is there really that much of a moral difference between secretly tapping skype/gmail/etc and banning it altogether?