Just in Time for Orthodox Easter: 'A Just Russia' Risen from the Dead?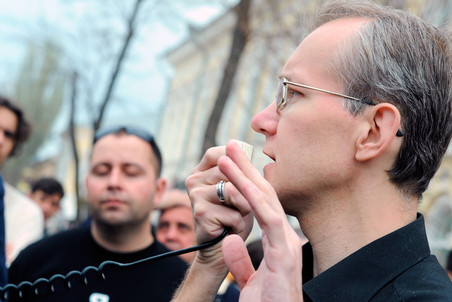 Russian Orthodox Easter has arrived, but one man is refusing to give up his fast.
Oleg Shein lost to the ruling United Russia candidate in the Astrakhan mayoral elections in March, and has gone on a hunger strike until the election, which he alleges was fraudulent, can be held again. He has been on hunger strike for a month.
Earlier this week, the entire Just Russia party staged an unprecedented walk-out in the middle of president Putin's address to parliament in support of Shein. What makes this all the more unusual is that a Just Russia was up till recently a friendly party formed to siphon off center-left votes away from Putin. In fact, its founder, Sergey Mironov, has been trying to persuade Shein to give up the hunger strike and come to Moscow to try to negotiate with the electoral commission. A delegation of Just Russia leaders flown into Astrakhan over the weekend to join 4000 others in a Saturday rally was greeted with police brutality and an astro-turfed counter-demo in favour of the dubiously elected pro-Putin candidate.
Meanwhile, Shein has managed to amass video footage of ballot stuffing and fraudulent vote counting in Astrakhan, and says he will not eat until an honest re-do of the election.
Mayoral controversies have happened before, and all have blown over pretty quickly. One way that Putin can diffuse the tension would be by reinstating the direct election of regional governors. But what happens if Shein pulls a Bobby Sands? And how long can a Just Russia continue to figure out whether or not it is in fact an opposition party?