Iran's Foreign Policy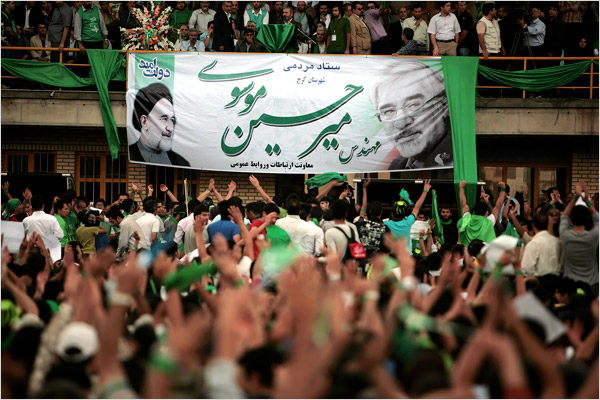 Foreign policy is surprisingly becoming a large factor in Iran's upcoming presidential elections. Iranians go to the polls on Friday and will choose among the incumbent, President Mahmoud Ahmadinejad, and his three challengers. Former prime minister Mir Hussein Moussavi is perceived to be Mr. Ahmadinejad's strongest opponent. Last week, in a nationally televised debate Mr. Moussavi said the president was moving the country towards "dictatorship" and his foreign policy was based on "adventurism, illusionism, exhibitionism, extremism and superficiality."
In an interview with the Council on Foreign Relations, Farideh Farhi, an affiliate graduate faculty member at the University of Hawaii, Manoa, remarked that "foreign policy unexpectedly has become a very important issue in Iran and obviously centers on the argument that Mr. Ahmadinejad has been unduly provocative."
During the debate, Mr. Moussavi said, "In foreign policy we have undermined the dignity of our country and created problems for our development." He also recently told voters that Mr. Ahmadinejad's confrontational approach "demotes our position in the world."
President Ahmadinejad clearly disagrees. According to him, Iran "will have a role in directing the future of the world." In its coverage, the Financial Times observes that Mr. Ahmadinejad sells Iran as great power and essentially argues that "Iran is not only a regional power – it is a global superpower."
Differences in the candidates' approaches to communicating with other countries are apparent. While none of the candidates have said they will halt Iran's nuclear program, the result will impact Iran's relationship with the United States and the rest of the world.
Even though Ayatollah Ali Khamenei will remain the supreme leader and ultimate arbiter, the outcome still matters. Karim Sadjadpour, associate at the Carnegie Endowment for International Peace, comments that "the president is widely thought of as Iran's second most powerful man." The president "helps sets the tone on economic and foreign policy" and is the most visible official internationally. "When it comes to major issues, such as the nuclear portfolio and relations with the United States, Khamenei will continue to have the last word, but he makes decisions by consensus rather than decree."
But the results and their impact are difficult to predict. Suzanne Maloney, senior fellow at the Brookings Institution, notes that "while no election outcome will single-handedly transform Iran's relationship with Washington – in part because Iran's presidency is not its ultimate authority in any case – the conclusion of this week's election will shape the outlook for diplomacy in ways that are unlikely to be straightforward."
Photo from Newsha Tavakolian/Polaris, for The New York Times.