A Smart Way You Can Help Haiti – Solar Energy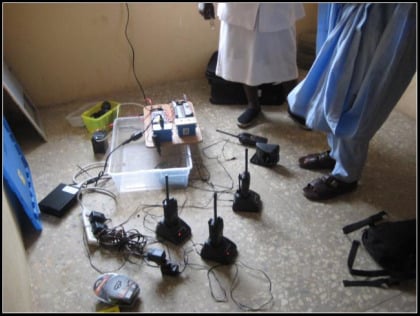 This month, I made a donation to an interesting organization that is helping with the disaster in Haiti.

We Care Solar is a U.S.-based non-profit that helps hospitals in developing regions by providing health workers with reliable lighting, blood bank refrigeration and mobile communication using solar electricity.
The organization was founded by Dr. Laura Stachel, board-certified obstetrician-gynecologist.  Through her various community projects in Nigeria, Laura discovered that sporadic electricity (or sometimes, just candle light) impairs the functioning of surgical wards, delivery wards, essential hospital equipment, and hospital communications.  Without proper electricity, emergencies are not communicated, diagnostic tests are unavailable and complicated surgeries are performed in the dark.
Pre-earthquake, Haiti's electricity grid could only support about eight hours of power every 24 hours.  After that ran dry, diesel generators would finish the day.
Now, some estimates suggest that it will take up to 4 months to restore even this basic level of electricity.  The U.S. Department of State reports that yesterday, 149 planes landed at the airport in Port-au-Prince without lighting, phones, computers or radar.  Makeshift field hospitals are now operating under the same constraints.
Here's where We Care Solar comes in.  The organization is constructing "solar suitcases" to send with medical teams heading to Haiti (see photo above).  Each suitcase functions as portable solar electric system, and includes LED headlamps that come with their own rechargeable batteries.  Put to work, the suitcase is able to power two overhead LED lighting and charge walkie-talkies and cell phones.
The kits are relatively simple and inexpensive to construct.  That's why even small donations help!
The first batch of solar suitcases were built and sent out last week, to doctors and nurses from partners in Health, Haitian Memorial Foundation, and Angels in Haiti.
Updates on the solar suitcase project here
Info on We Care Solar here
Most importantly, help get solar energy harnessed and shipped to Haiti.  Online donations here.
*****
Tax deduction info:
WCS is under the fiscal umbrella of "Venture Strategies for Health and Development." If a donor wants a tax deduction within the U.S., donate to:
Venture Strategies for Health and Development,
c/o Laura Stachel
3009 Hillegass Ave.
Berkeley, CA 94705
And if a donor doesn't need a tax deduction, send funds directly to WE CARE Solar at the same address.