First the Power…then the Water…now the Soccer? Political Gridlock Threatens Iraqi Football.
Nearly five months after national elections were held, Iraq is still without a government. Now, they may be without a football team.
Sadly, the Iraqi national team, the pride of the nation and the reigning Asia Cup champions, may be banned from international competition by FIFA, due to the decision of rival members of the Iraqi Football Association to hold separate meetings to elect a new president.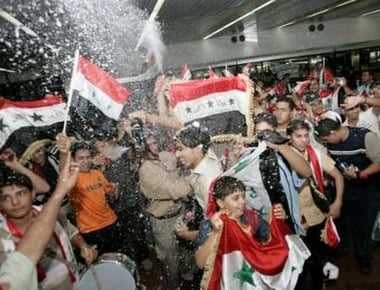 A bitter trickledown of deeply ingrained sectarian tensions has led to a schism in ranks of Iraqi soccer officialdom. Administrators backing the government's Shi'a candidate recently met in Baghdad while the Sunni incumbent's supporters met in the Kurdish city of Erbil. Both groups are hoping to secure their candidate's position on top of the sport's bureaucratic hierarchy in a painful hommage to the political stalemate that's brought progress to a halt.
The latter meeting was observed by representatives from FIFA and the Asian Football Confederation and apparently they weren't wild about the whole debacle. FIFA does not tolerate political interference into member associations and Asian Football Confederation president Mohammed Bin Hammam admitted the recent developments were worrisome.
"The situation in Iraq is of deep concern to AFC and FIFA," he told the AFC website. "I hope the issue will be resolved amicably for the good of Iraqi football. All parties need to abide by FIFA's guidelines, which are very clear."
The years since Saddam was toppled have witness the establishment of a top-heavy Shi'a-dominated government that wants to purge the nation's favorite sport of any and officials with alleged ties to the Ba'ath party. The two men vying for the position are both national heroes, stars on the national team and celebrated for their club play. Falah Hassan, a 60 year old Shi'a originally from Sadr City and a former captain of Iraq's best club team, is the personal favorite of Prime Minister Nouria al-Maliki. Hussain Saeed, the Sunni incumbent, is a former striker for a popular Baghdad club and ranked tenth all-time of FIFA's list of international appearances. However, only one of these men has been the recent target of a military-style raid on federation offices…which the government has since denied ordering.
This is honestly tragic. Iraqi football has been a lonely bright sport for this troubled nation in the bloody years of occupation. As Deputy President of the IFA, Najeh Hammoud, observed, "Football has been able to bring all Iraqis out on the streets…to cheer in one voice for Iraq."
Let's not forget the fact that the 2007 Asia Cup was won on the strengh of a Kurdish player's pass to a Sunni striker who netted the winning goal against an opposing team held scoreless by a Shi'a keeper. Such a shame that politics as usual have interrupted the beautiful game.