Egypt's Relevance and Europe's Responsibility
Tunisia was easy. Small country, educated middle-class and a weak Islamist element. For many European heads of state, the toppling of Ben-Ali was irksome (his ties to the continent ran deep — trained at Saint-Cyr, ambassador to Poland), but manageable. Other than the French foreign minister's disturbing offer to provide the government security support, the silence from most European capitals on the issue was disappointing but inconsequential.
Egypt, on the other hand, appears to be a game-changer. So far, European countries have sided with "stability" — meaning Mubarak. Angela Merkel said Friday that, "The stability of the country is of course extremely important, though not at the cost of freedom of opinion." Her defense minister struck an even more alarmist note, warning against the "risk of infectious momentum" of the protest movement. David Cameron has called for "real democracy" but gave no indication that he would support impromptu regime change. Still stinging from the Tunisia debacle, France has called only for restraint and dialogue.
These pictures suggest that we're unlikely to get anything stronger than that from the big three: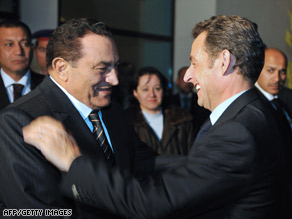 Yet few have paused to ask whether Egypt is truly the heavyweight Middle Eastern power many have made out to be. LeMonde quoted yesterday a French foreign ministry spokesman who argued that Mubarak's durability has finally drained the country's influence in the Middle East. Though it is the region most populous nation, it is neither wealthy, nor Shiite, nor in open conflict with Israel.
If anything, the above pictures may confirm the country's impotency — needless to say, it's difficult to gain traction in the Middle East if you are closely aligned with the West. If he is able to take power, the bookish Mohammed ElBaradei is not likely to raise the country's regional profile by much.
So regime change in Cairo may not be as earth shattering as it seems. And this should be making easier what the big three know they should be doing. Diplomatic decorum dictates that they can't openly call on Mubarak to step aside. But they have not taken the next best — and most morally obvious — step: calling for new elections.