More trouble in Baku, local press reports on "magic tree"
News out of Baku is that the "Azadliq" (freedom) opposition bloc staged a rally on Saturday (19 June) during which as many as 82 protesters were arrested. The rally, which had not been authorized by the Baku city authorities, was organized to protest alleged curbs on freedom of expression, and to underscore concerns that the upcoming parliamentary elections will be rigged.
Typically, authorization for opposition rallies are either denied outright or approved only in venues far from the city center. For instance, Turan News Agency reports that this rally was approved only for a site in a Baku suburb. And the 2006 rallies in support of a color revolution were held in a public square far from the city center. The idea is that such isolated demonstrations attract little attention and can be dealt with easily by police forces.
Saturday's demonstration was the result of a spontaneous change of venue once the police cordoned off the mayor's office as well as the Bak Soviet metro station (now called "Icheri Sheher") – a favorite site for unauthorized opposition rallies. So Azadliq went to a nearby park, where supporters held signs such as the one pictured here. The young man holding the "F**k Oil" sign was reportedly beaten by police and arrested, along with dozens of others, some of whom were chanting "Freedom!" and "Ilham resign!" The latter is a reference to current president Ilham Aliyev.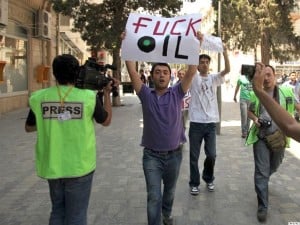 Opposition press reports indicate that most of those arrested were later released, although five activists were said to have been given jail sentences of "several days," according to Azerireport.com. Exact numbers are impossible to verify.
Click here for a video from Radio Free Europe of Saturday's rally and the resultant arrests.
Further reports indicate that at least one protester was beaten severely by a senior Baku police official. Rovshan Nasirli, a well-known activist, was allegedly roughed up by Lieutenant General Yashar Aliyev, who placed Nasirli under arrest. Witnesses report that police officers at the station where Naasirli was taken say that they "found narcotics" in his possession. It is unclear whether this is the same Rovshan Nasirli who was interrogated by Azerbaijani authorities last year when he voted for the Armenian entry in the 2009 Eurovision song contest, something that was reported world-wide.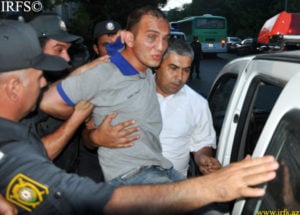 Adazliq, consisting of the Popular Front Party and a number of smaller parties, seems to be preparing a strategy in the run-up to Azerbaijan's parliamentary elections to be held in November. The Popular Front's chairman, Ali Kerimli, decided to boycott 2008's presidential election, but he may have decided that non-participation in Azerbaijan's elections does more harm than good, further isolating the opposition.
Interestingly, none of Azerbaijan's pro-government media outlets (or even supposedly independent ones such as ANS TV) have bothered to cover the event. Day.az and Today.az, often touted as independent news sources, told me that they were aware of the rally and arrests, but chose not to cover the story "due to the inner policy of our agency." They did, thankfully, manage to publish stories today on the "magic tree" that grows in the city of Ganja, along with a news story with the headline, "Number of cars in Azerbaijan increased."