How about a US envoy to Cuba?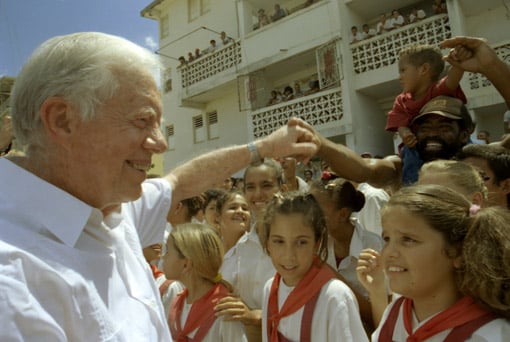 It's a long way off, sure.
But Jimmy Carter seems to be the guy for it.
The former US President began a visit to Cuba yesterday at the invitation of the Cuban government. Foreign Minister Bruno Rodriguez, in fact, was there to meet Carter on the runway when his plane arrived. Carter is the only president—sitting or former—to have visited the island since Fidel Castro came to power in 1959, so his visit is indeed remarkable, and even more so because this is his second visit. In 2002 Carter flew in and Fidel Castro himself was there on the runway to greet him and take him on a tour of Havana. Fascinating.
On this visit, Carter is observing and holding meetings under the auspices of the Carter Center to "learn about the new economic policies and the upcoming Party Congress, and to discuss ways to improve US-Cuba relations." He has already met with leaders of the Cuban Jewish community and with Cuban President Raúl Castro. He is expected to meet with Fidel Castro, as well.
But wait; there's more.
Carter is also meeting tomorrow with members of the Cuban dissident community. He'll see all of the individuals we've regularly noted here, including Yoani Sanchez, members of the Ladies in White, and individuals recently released from Cuban prisons. He has specified that he is not in Cuba to have Alan Gross released, by the way, though he's apparently raised the issue with Cuban officials. He is there, he says, to contribute to an improvement in US-Cuba understanding and US-Cuban relations.
Allow me to repeat that Carter is visiting by invitation of the Cuban government. In the past (and not so distant past), meeting with dissidents has been considered an attempt to undermine the Cuban state; meeting with both government officials and dissident groups while visiting Cuba has been frowned upon and has generally irritated the government. In fact, foreign visitors almost never meet with the Cuban opposition in order to avoid angering the government. But Carter does not seem to be upsetting Havana in the same way that others have. The rules do not appear to apply to him, or perhaps he's been more transparent with his hosts about his intentions. On his previous visit in 2002 (which, in terms of US-Cuba relations, was even colder), Carter also met with 20 dissidents.
So…
How about a US envoy to Cuba?
(Photo credit: Annemarie Poyo/The Carter Center)