UN Campaign Seeks to Give all Children a Shot at Life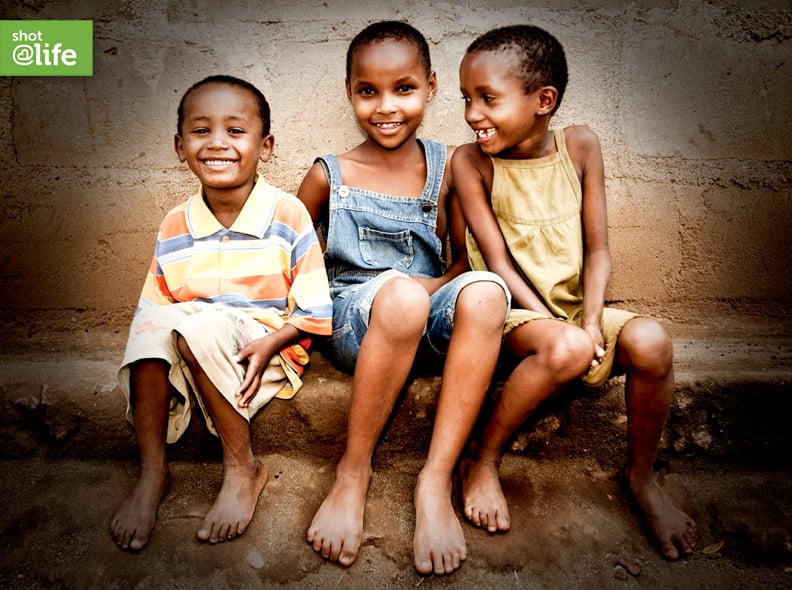 The word immunizations is just a simple vocabulary word to most of us in developed nations, however for those in developing countries the word means a 'shot at life' for their child.  One in five children does not have access to vaccines that prevent deadly diseases, like measles, pneumonia or diarrhea.  Nonetheless some 2.5 million children, under the age of 5, die every year as the result of preventable infectious diseases…mostly due to funding gaps.  Ninety-nine percent of those children live in developing countries around the world.  Mothers in many countries around the world  are desperate to gain  access to vaccinations, to prevent disease and literally save the lives of their children.  Many mothers walk more than 15 miles carrying their child with them in search of a clinic or camp where they can get vaccinations.  Sadly many other mothers are left feeling helpless as they cannot find access to vaccinations for their child no matter how far they walk.
Across the globe a child dies every 20 seconds from a disease that could have prevented with a simple low cost vaccine.  Most vaccinations cost less than $5 (USD) per child….a small price to pay for an entire future.  These vaccine-preventable diseases include pneumonia, diarrhea (rotavirus), measles and polio.  Pneumonia and diarrhea, the two biggest killers of children under five, account for more than one-third of childhood deaths worldwide.  Those mothers who live in fear of preventable diseases due to lack of access to vaccinations primarily live in just ten countries, as Seventy-five percent of unvaccinated children live in: Afghanistan, Democratic Republic of the Congo, Ethiopia, India, Indonesia, Iraq, Nigeria, Pakistan, South Africa and Uganda.
Thousands of volunteer advocates, celebrities, medical experts and some of the country's most influential voices joined together recently with the United Nations Foundation in launching Shot@Life campaign, a first-of-its kind campaign to build awareness, raise funds and advocate for the millions of children around the world who do not have access to life-saving vaccines.
"More than 100,000 people, including world-renowned photographer Anne Geddes and some of the most influential online moms, are activating their networks across the U.S. and around the world to take action to save and improve the lives of children. From Los Angeles to New York and Seattle to Miami, thousands of Americans are rallying to get life-saving vaccines to children in developing countries who need them most. Their time, their voices, and the money they are raising sends a powerful message that Americans understand the value of vaccines and are ready to rally on behalf of millions of moms and their children worldwide." - Devi Ramachandran Thomas, director of the Shot@Life campaign.
The campaign aims to reduce child deaths from diseases such as diarrhea, measles, pneumonia and polio, by encouraging Americans to learn about, advocate for, and donate vaccines.  The campaign was established as national call to action to rally the general public, members of Congress, and civil society partners to work together and save a child's life, one every 20 seconds, just by expanding access to vaccines.  The Shot@Life campaign and it's supporters seek to raise $20,000 by Mother's Day to help the United Nations provide immunizations to 1,000 children under the age of 5 years-old.
The idea of saving a life is always important and the thought of letting someone…a child…die from something that is so easily preventable is shocking enough.  However but the issue of vaccinations is greater than they even appear on the surface.  Vaccinations are a human right and they vital to our global development and security.  The failure to vaccinate children in developing countries creates ripple effect that pulls at more than our heart strings in developed nations.  By vaccinating children across the globe the rate of child disease and mortality will decline, leading to lower birth rates and lower medical costs to treat illnesses that create debt and deplete family resources.  All of this will then  see that children more likely to attend school regularly and finish, while will allow more mothers to work, thus increasing family incomes that then allow the entire community to prosper.  These effects then aid to the decrease in civil conflicts, which are caused by the desperation of poverty, which then will lead to more sustainable and peaceful individual communities, which then ripple to the rest of the country and across the globe.  Therefore giving a child a 'shot at life', gives us all a shot at a better life.