Strict Integration Undermines Smaller Caribbean Economies says British Economist
A new regional economic platform, the Caribbean Growth Forum (CGF), spearheaded by the World Bank (WB), Inter-American Development Bank (IDB), and Caribbean Development Bank (CDB), mobilized more than 150 participants in Kingston's University of the West Indies around a common concern: the region's perennial economic failings. The two-day conference, held on June 28-30, 2012, attracted public and private sectors, academia, youth, and civil society to the Jamaican capital's Mona Campus to explore avenues that presented the region the greatest growth potential.
In the words of Joel Branski, Barbados' Country Representative at the IBD, "We want this initiative to be truly inclusive; therefore, we are inviting everyone to join the dialogue on how to generate growth and opportunities for all." Highlighting the region's rich and proud history, WB's Director for the Caribbean, Francoise Clottes, foresaw unique growth potential. "It [the Caribbean] is ready to move beyond traditional markets and trade preferences and reach out into new sources of growth," affirmed the director, according to a CGF press release.
Competitiveness, entrepreneurship, and innovation topped leaders' agenda, which paraded 39 speakers that presented the new club's goals and objectives. "The new Compete Caribbean Program pledged its commitment to develop solid projects to support the work already started today," said Branski who singled out inclusion as the most critical element to CGF's success. "We will explore every avenue to stimulate growth in the Caribbean and reach out to those other voices that are not always heard, including the youth and civil society," he added.
While organizers said the one-year initiative would facilitate knowledge sharing and generate practical policies aimed at fostering sustainable, inclusive growth, and creating jobs, they were not oblivious to the region's old demons, including crippling trade agreements and high poverty levels. "Economic growth has been structurally low in the region and needs to become more inclusive," conceded the CGF's released note, highlighting the significant economic contraction most countries leaving in the shadows of the 2008 global financial meltdown still experienced. Moreover, newly released data from United Nations' Economic Commission for Latin America and the Caribbean (ECLAC) showed Haiti's economic aid model outperforming the region by nearly two percentage points, as Caribbean Journal reported. "Latin America grew by an estimated 6.0 percent in 2011, while Caribbean states only grew by an average of 2.3 percent," indicated a note that also revealed chronic debt challenges still plagued the region. "Public debt-to-GDP ratios have reached 100 percent in a number of countries in the past few years," pointed out a note.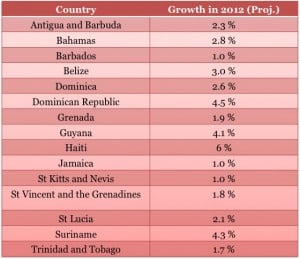 For British Economist Robert Read, who spoke at CGF, Caribbean integration might be the least viable option for the region, especially for smaller Caribbean islands. "Larger states, such as Jamaica, Haiti, Guyana and Trinidad and Tobago, would benefit little from integration, while it would further undermine the well-being of smaller countries," said Read who teaches international economics at Northern England's Lancaster University. During his intervention, Read said poor policies, wasted opportunities, and failure to diversify production caused the region's marginal growth. He urged leaders to interject their economic apparatus with fresh thinking that would help their countries confront emerging challenges of an increasingly integrated global economy. As the World Bank revealed, the region exports a limited range of good to a few markets, while the top 20 products account for 70 percent of exports. Even worse, Caribbean countries do little trading among themselves, as competition over larger markets divides the region. The escalating trade war between Jamaica and Trinidad and Tobago is a prime example.
Read, whose research focused on growth performance of small economies, particularly in Western Europe, the Caribbean, and the Pacific, recommended increasing co-operation among countries, eliminating trade barriers, and common policies adoption. The author perceived increased trading among Caribbean states as a vital lifeline for nations shackled by rigid trading agreements. "Strict integration would undermine much of the economic base for the smaller economies in the regions as activity, jobs and output shift to larger countries," argued Read who felt Caribbean nations invested too little in human resources. He identified intrastate transportation and education, specifically information communications technology, as two areas that needed strategic investments. "The world has rapidly moved on in the last 30 years and could be leaving the region behind," added the economist on Jamaica Observer's reporting.
CDB President, Warren Smith, also perceived inter-regional economic growth as the gateway to prosperity. "Accelerating and sustaining inclusive growth is arguably the most pressing development challenges preoccupying the region's leadership today," admitted Smith who felt, as an innovative platform for networking and open exchange of constructive ideas, CGF offered the region a unique opportunity to reposition its economies. Kurt Focke, division chief of the capital markets, agreed a paradigm shift was long overdue. "The region has done well in capitalizing on its natural endowment and geographic location to generate growth," said IDB's Compete Caribbean Program's chairman. "But needs to transition from natural resource-based growth to innovation-based growth," he inferred.