Still a Dream: Land Restitution on Colombia's Caribbean Coast
As Colombia prepares for peace talks with the nation's oldest guerrilla group, the Armed Revolutionary Forces of Colombia (FARC) set to begin next week, a new report sheds light on the immense challenges to land restitution in Colombia, where conflict has displaced nearly five million people.
¨Still a Dream: Land Restitution on Colombia´s Caribbean Coast, ¨ published by the Latin America Working Group Education Fund and Lutheran World Relief, highlights challenges to implementation of the nation´s 20011 ¨Victims and Land Restitution Law ¨ (Law 1448) and reveals an almost complete lack of progress under the law on Colombia´s Caribbean Coast.  The report also includes recommendations to U.S. and Colombian policymakers to help advance the process of land restitution in Colombia.
The report´s focus on the Victims´ and Land Restitution Law is timely and provides important recommendations for moving forward land returns that are critical to establishing peace in the country.  "Why is it is important that the Victims' Law be fully implemented?" asks Lisa Haugaard, executive director of the Latin America Working Group. "If there is to be a just and lasting peace in Colombia, it is crucial that the Colombian government deliver on its promises to the victims of the conflict. This includes the promise that land be returned to those who have had to flee the violence. And we are not yet seeing this pledge fulfilled."
When passed in 2011, the law was applauded by the international community and subsequent programs to help implement the law have received substantial funding from the United States. A July 2012 announcement by Deputy Secretary of State, William Burns, committed an additional $50 million from the U.S. for application of the law. Yet of the 15,208 claims for restitution that have been made, the U.S. Agency for International Development notes that no land has been restituted. Colombia´s displaced rural communities have received little support to navigate the return process, and returning without government support is dangerous.
The report includes information about threats and violence against ¨land leaders¨ and advocates for land restitution on the Caribbean Coast. Since August 2010, at least 25 land leaders have been killed in Colombia. Haugaard explains, ¨There is still a strong presence of armed gangs and paramilitary-like groups, which sprang up after the 2004-2006 paramilitary demobilization, which continue to threaten small farmers, including people displaced by the war who have returned to their lands.¨ Lutheran World Relief´s Country  Director for Colombia, Zoraida Castillo adds, ¨What we have observed is that fear, lack of government support, and continued activity by armed groups prevent communities and families from returning to their land.¨
The report calls on the U.S. Government to closely monitor implementation and progress of the Victims´ and Land Restitution Law. Recommendations made in the report to the U.S. Government also include:
Condition assistance for Victims' Law on greatly improved actions to protect returned and returning community members and land rights leaders, with protection plans created with full participation of affected individuals
Provide assistance for protection programs and land titling, as well as increased legal accompaniment for victims via the Ombudsman's Office and personeros
Fund and work with existing campesino (small-scale farmers) and victims' organizations rather than creating new ones to ensure unity in social movement
Withhold certification on human rights conditions if the Colombian government moves to approve legislation that would result in human rights violations
Urge the Colombian government to take a more vigorous approach to capturing and dismantling paramilitary successor groups
Land reform and land restitution for Colombia´s millions of displaced people are sure to be issues discussed in the newly initiated, and long-awaited, peace negotiations between the Colombian government and the FARC.  ¨Still a Dream¨ provides on-the-ground insights into the challenges facing rural communities hoping to return to their lands, and offers clear recommendations for how Colombia and the US can support successful returns with or without a negotiated settlement to the Colombian conflict.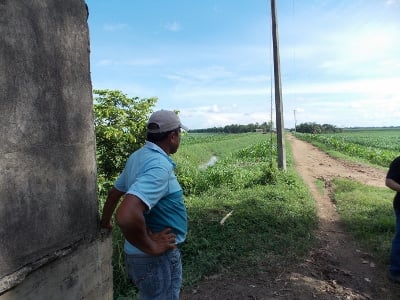 (Photos: Annalise Udall Romoser)