Benchmark! Free Trade for Beijing – Wellington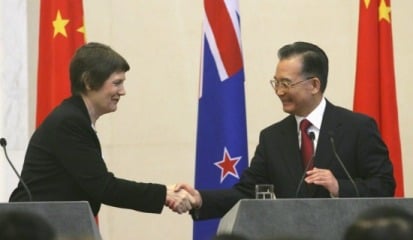 Prime Minister Helen Clark of New Zealand, left, and Prime Minister Wen Jiabao of China  after the signing ceremony at the Great Hall of the People in Beijing. (China Daily/Reuters)
China and New Zealand have signed a free trade agreement, effective October 1st, marking the first concluded agreement China has signed with a developed country. Talks for this agreement were put in motion in 2004 when NZ granted China market-economy status, a contingency prospective traders must fufill before becoming eligible to negotiate a free-trade pact. (The EU and US still classify China as a nonmarket economy, enabling enforcement of penalties on Chinese goods that are exported at a cost lower than rates of production).
The agreement situates each country to benefit by exporting goods on a tariff-free basis. NZ will phase out tariffs on all Chinese imports by 2016, and China will follow suit by reducing tariffs on 96% of all NZ imports by 2019. The free trade agreeement also provides coverage for trade in services between countries, from insurance and banking to education and labor supply. New Zealand issued a statement, saying "The upfront commitments on goods, services and investment and the mechanisms which provide for further development of the agreement over time should help keep New Zealand at the fore front of the evolution of trade and investment relationships with China."
One facet of this agreement focuses on sharing eco-friendly best practices, as China seeks to learn carbon emission reduction techniques from NZ in an effort to become proactively involved in climate change. As agricultural products make up nearly half of NZ's exports to China, it presents the opportunity to educate a growing country on harnessing its assets in an environmentally productive fashion.  
As it relates to China's position in the global trade community, the success of this agreement has the power to influence Chinese deals with Australia and other countries looking for a similar arrangement.is in the process of authoring 6 more trade agreements, including trade partners Australia, Peru, and South Africa.
The conclusion of this agreement grants NZ expedited, direct access to China's growing economy, which will only grow as the door swings open and more countries jump on the bandwagon. China is becoming more competitive with the US' trading stance by enlisting its own bilateral trade partners. NZ's Clark is reportedly receiving flack for concluding this agreement with China concurrent with China's controversial human rights conflicts.