Obama's Travel Karma Pays Off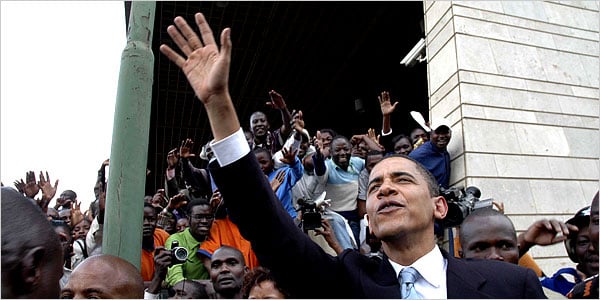 (Obama in Kenya, courtesy of the New York Times)
Barack Obama likes to highlight that his internatinal exposure distinguishes him from his Republican opponent.  His birth in Hawaii, travels to his father's native Kenya, four years spent in Indonesia, and even a college trek through Pakistan and India, have given him quite the international worldview.
Now that he is running for President, having an international worldview appears to be paying off–especially in terms of his reputation abroad. Let's call it travel karma that is now coming back to give him a big boost in the international rankings.
For example, Sara Schonhardt reported this week from Jakarta that:
 "In Indonesia… Obama is already considered a hometown hero. Comments about being a "true friend" to Israel have had little effect in the predominantly Muslim nation. What Indonesians know is that Obama, who spent four formative years here, is the better man to take the American presidency."
"…Barak Obama was in Indonesia for a long time, so he understands Muslim culture," said Edi Kusyanto, an English teacher at SDN Menteng elementary, the school Obama attended as a child. "He knows how to make American people understand about Indonesia. It's very important for him to change American thinking."
Also in Indonesia, the New York-based Asia Society held a conference in Bali for Asia-Pacific experts to discuss the greatest challenges facing the Asia-Pacific community.  At the conference, attendees were asked who they would like to see as the next US President.
The Society reports that "A large number of respondents said Barack Obama was the most popular, and the Indonesian respondents in particular talked about the significance of Senator Obama's early childhood in the country. Meanwhile, the city named "Obama" in Japan is enjoying increasing popularity(!)"
Watch a video with their responses here.
Meanwhile in India, Chidanand Rajghatta points out the little-known fact that Obama travelled through India and Pakistan in his youth in an article for the Times of India. He argues that Obama is a better US President for India because of the Senator's multicultural roots and understanding of the region. He writes:
 "Here's a trivial observation that suggests why Obama, because of his eclectic and unusual upbringing, may be different: He's the only American leader who has been heard to pronounce Gandhi and Pakistan correctly ' just like it's pronounced in the subcontinent (Gaan-dhi, not Gain-dee; Paak-isthaan, not Pack-is-tan). In other conversations, Obama has also referred to Indian success in technology fields, and drawn comparisons between his father (who came to the US "without money, but with a student visa and a determination to succeed") and the experiences of Indian immigrants.
Such empathy and "connection" to immigrants from the subcontinent is only one part of Obama's plural multi-ethnic background and wide-ranging eclectic education (American, African, even part-Asian) that makes him arguably the most unusual and exciting presidential candidate in US history ' more universalist than American.
…Conventional wisdom in Indian circles is that a McCain win will result in a broad continuation of Bush administration policies, including a possible revival of the US-India nuclear deal in the event of a favourable political alignment and atmosphere after the general elections. Beyond that, US-India ties, at least from Washington's perspective, would continue to be largely security driven, subject to conservative impulses arising from fears of an extremist Islamist agenda to India's west and an expanding Chinese influence everywhere.  "But with Obama, we are still not sure because he is still putting the pieces and players together," admitted one [Indian] official on background, adding, "One thing we know for certain is that he, or anyone else for that matter, will not be hostile to India."
And of course in Kenya, his father's native land, Obama is the clear choice for US President.
It's not surprising that people in other countries highly value a potential American President's internatinal outlook–afterall that's the quality that stands to effect them most–not whether or not he's good for a beer. It is doubtful that Americans will consider international opinion of the Presidential candidates when they go to the ballot box. But what is yet to be determined is whether Obama's travel karma from abroad will come around to give him any added boost of popularity in the US.