Views of the Election in Indonesia
 NPR's "All Things Considered" program ran a segment on Indonesian opinion of Barack Obama this week. Obama attended grade school in Jakarta, so one would expect Indonesia to be a bit of a"blue state."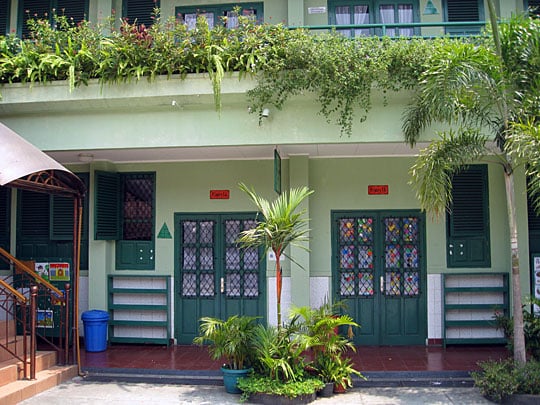 (Obama's third-grade classroom at Public School No. 1. — Michael Sullivan/NPR)
Here's what NPR reports:
"Indonesia is the world's most populous Muslim-majority nation, and a place where America's image has been badly tarnished by the wars in Iraq and Afghanistan. But Indonesians are keenly interested in the outcome of the U.S. presidential election, and they have a soft spot for Democrat Barack Obama, who spent part of his childhood there.
At the school Obama attended in the Menteng district of Jakarta, a security guard named Adang says he is a little tired of the reporters who come expecting to find an Islamic boarding school and evidence of Obama's secret Muslim identity ' an image encouraged by some of Obama's political opponents in the United States.
It's not true, says Adang, who goes by one name. He points to Obama's third- and fourth-grade classrooms and says patiently that this is not an Islamic school.
"Yes, we have a mosque," he says, but at prayer time there are rooms for Christians and Buddhists to pray in, too. Public School No. 1 Menteng is actually among the city's finest, in one of Jakarta's most exclusive neighborhoods and home to many of Indonesia's business and political elite.
Adang says he wants Obama to win next month simply because he's an alumnus. It would be good for the school's image, he says, to be able to say that the president of the U.S. studied here, too…
"…The U.S. is a great superpower," [Indonesian shopkeeper] Probowo says. "And U.S. policy is felt throughout the world. I like Barack Obama. Not because he lived in Jakarta, but because I believe he can help change America's image, especially in the Muslim world. If John McCain becomes president, I don't see things improving in Iraq or elsewhere. But Obama says he'll stop the war. And that will be a good thing for everyone."
Probowo is Muslim, but says he doesn't care that Obama is Christian. Religion isn't relevant, he says, and what matters is how Obama looks at the world and uses his ability to shape America's foreign policy for the better…."
I recommend giving it a listen.
NPR has already reported, and I have already blogged about views of McCain from a certain Asian nation with which he has history. In case you missed it, here it is.