Central Asian Regional Water Sharing Deal Reached
Ever since the Soviet Union's collapse, the region of Central Asia, flush with newly minted states, has struggled to come up with a regional water arrangement to suit all those involved. In recent weeks, the region's governmental leaders have been working on a short-term water sharing deal, and it now appears their work has come to a successful conclusion.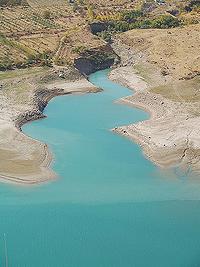 Here is an excerpt explaining the agreement's intricacies and processes from The Times of Central Asia:
"After the conference of [our] heads of state in Bishkek [on October 10], we eventually managed to sign an agreement on measures to live through the very difficult autumn-winter period of 2008-2009 at a meeting of the deputy prime ministers of the five Central Asian countries on October 18 in Almaty," Shukeyev said.
"It is the first such agreement between our five countries in the history of their independence," he stressed. According to Shukeyev, similar agreements between the four countries of Kazakhstan, Kyrgyzstan, Tajikistan and Uzbekistan were terminated in 2004-2005, and afterwards the distribution of water, electricity, and fuel, as well as operation of the region's united energy system, was based on bilateral agreements, which did not encompass the entire range of problems.
"Now Turkmenistan has been involved, because it is impossible to ensure a balanced operation of Central Asia's energy system this year without Turkmen electricity," the Kazakh deputy PM said. According to him, Turkmenistan has pledged to sell additional volumes of electricity to Tajikistan and Kyrgyzstan, and Uzbekistan has promised to transit this electricity.
Uzbekistan, Kazakhstan and Turkmenistan will assist Kyrgyzstan in maintaining the current water level in the Toktogul reservoir, insuring its use for Kazakh and Uzbek irrigation during the coming agriculture season, Shukeyev said. He reminded that the water level in the Toktogul reservoir is critically low this year , now at 9.5 billion cubic meters.
"According to the agreement, Uzbekistan will deliver to Kyrgyzstan an additional 150 million cubic meters of gas [this winter]. We [Kazakhstan] will deliver [to Kyrgyzstan] fuel oil and coal. We have also assumed the obligation to make an advance payment for [Kyrgyz] electricity during the next agricultural season," the Kazakh deputy PM said. "In exchange, Kyrgyzstan will now introduce a very rigid electricity saving regime, maximally use its coal- and gas-fired power plants, and introduce an almost 30 percent restriction on electricity consumption this winter," he added.
In his words, during the coming agricultural season Kazakhstan and Uzbekistan will buy 1.2 billion kWh of Kyrgyz electricity to ensure the irrigation of their arable lands. This is done primarily because discharging water from the Toktogul reservoir for the irrigation of Kazakh and Uzbek fields during the spring-summer season generates surplus electricity from the Toktogul power plant that is not needed inside Kyrgyzstan during the summer. At the same time, releasing the water during the summer causes water loss that is needed for generating electricity for domestic consumption during the following winter months.
(With Ferghana.ru, Kazakhstan Today)
Here is an analysis of the deal's shortcomings and strengths from Paul Goble. Goble has wise words that this agreement has many tenuous attributes that are likely from making this a long lasting solution. The ability of Uzbekistan to follow through on all aspects of energy and water transfers will be one specific element to keep an eye and one area that could end up derailing the agreement. But compared to where things were at just a few weeks ago, this is a positive development that will hopefully bring some stability for the coming winter.
In other news, the countries of Central Asia and international organizations UN and OSCE held a two day conference on the prevention of the trafficking of drugs from Afghanistan through the region.
And that's not all the cooperating going on, as many representatives from the region met in Tashkent to discuss Disaster Prevention, specifically regarding future earthquakes.
(Photo Source: zz77: Lake Tcharvak, a reservoir in Tashkent Province, Uzbekistan)