Do Not Pass!
I apologize for my absent of late as I was spending the holidays way up in Alaska with my family, including my new niece.  There has been much happening in our Central Asian region of the world and I will try to discuss all the recent happenings as soon as possible.
Before the holidays took over for us in the West, NATO supply routes through Pakistan into Afghanistan were under siege by Taliban insurgents.  Since then, actions have been taken by both NATO officials, to find alternative supply routes through Russia and the Central Asian states north of Afghanistan, and the Pakistani government, which shut down a crucial part of the Pakistan-based supply route to try and weed out Taliban militants.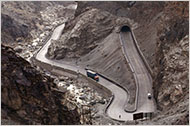 It appears that NATO officials are finding friendly listeners in the states of Turkmenistan, Uzbekistan, Tajikistan, and even Russia when it comes to increasing their role in providing territory for NATO supplies into Afghanistan.  Gen. Duncan J. McNabb, chief of the American military's Transportation Command, reportedly quietly visited nations along Afghanistan's northern border last month and it looks like their governments will welcome the increasing traffic of nonlethal goods.  These CA states have revenues to gain, better relations with Europe and the US, and share NATO's struggle of combating extremism and bringing stability to Afghanistan and the region.  NATO and US interests in a new, safer route are rather obvious and have become especially important as a surge in American troops is coming in the very near future and will need greater amounts of infrastructure and military supplies.
In regards to Russia, talks between NATO and Moscow officials appear to be going well and there may even be opportunities for a greater allotment of shipments, even including those with lethal goods.
"Talks are now under way for a NATO-wide air transit for military goods, not specified as nonlethal," said James Appathurai, NATO's chief spokesman.

"Those talks are going well," Mr. Appathurai added. "The Russian Federation has publicly and repeatedly made it clear that this is an issue of strategic interest to them, and that despite disagreements we have over other issues, this area of cooperation has been walled off and preserved. We expect it to be deepened."
Though there are those in Russia who still feel a greater US presence in Central Asia, a region they consider their 'backyard' is something to be feared.
The bottom line of this issue is that the government, civilian, and foreign military units in Afghanistan get the resources they need to prosper and bring stability.  How this happens, as in where the supplies comes from, is largely secondary, but this is another sad aspect of the rising instability inside of Pakistan.
(Photo: New York Times, a supply route in Pakistan)