Karl Lagerfeld discovers it's a long way from Paris to Brussels.
The European-quarter of Brussels where all the major EU buildings are based is  usually a fairly boring and dull place (with employees who often reflect the surroundings). The Berlaymont building, which houses the Commission, though a spectacular building itself, is but a speck  in a sea of nothing-much.  Today, however, the drabness of Europena was interrupted slightly as style-icon Karl Lagerfeld whisked in to to Berlaymont for a quick meeting on online shopping, before retreating back to Paris where he could live again with his type of spontaneous, creative and, errr – fashionable, people.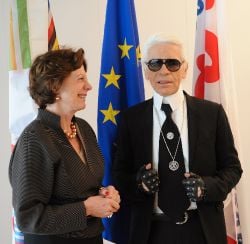 Still, he managed to look right at home as he made chit-chat with Dutch Commissioner Nellie Kroes about her recent ice-skating injury, which she assured him was just an accident. One wonders – Nellie is one of the most powerful and controversial of the EU's Commissioners, not only because of her powerful portfolio (which is Competition policy), but also becuase of the full use she has made of her extensive powers in the area of anti-trust, merger oversight and restriction of state-aid to companies. Perhaps an irate company executive fresh from one of her regular huge fines (she has recently started breaching the €1 billion mark) finally took revenge?
In any case, back to Mr. Lagerfeld whose mind was far from any such malicious thoughts. Being the throughout gentleman he is, he even decried immiediately Nellie's comment that she was too old for ice-skating. So why did he swap the artistic environs of Paris – the city of light – for a stuffy office in the most drab part of Brussels? Well the answer lies in those extensive powers that Nellie posseses. See, the EU, as part of it's mission to facilitate full competition, is reviewing rules that restrict online retailers, such as Amazon, from selling certain luxury goods, such as Chanel (of which Mr. Lagerfeld happens to be chief designer).
Mr. Largerfeld is quite content with the rules as they are, as they help maintain a certain premium feel to their products as well as preventing counterfeits. On the other-hand the Commission is anxious to remove all market barriers to online shopping in the EU, thus allowing Europeans to shop cross-border and benefit from different levels of prices.
Mr. Lagerfeld is likely to be disappointed in his efforts as the Commission is likely to press ahead with abolising the rules. No doubt Mr. Lagerfeld is currently imagining with horror how his wonderful Chanel brand will be butchered and manhandled by every random person who may set up an online shop, perhaps asking how some bureaucratic rule could possibly trump this consideration?  That's the distance between Paris and Brussels, Mr. Lagerfeld.