Albedo
Looking at climate change as much and as often as I do, I have come to have a heightened sense of the danger looming and the urgency of our situation.  Therefore, knowing that snow reflects solar radiation back into space, thus diminishing the radiative forcing on the earth, snow is something that has come to have an even greater positive association for me than it previously did.  Snow has a high albedo and so when I'm in it, I am reassured.
I grew up spending a lot of time outdoors, hiking and skiing, among other things, in the Northeast US.  This was one of the reasons I was so highly motivated to fight acid rain back in the 1980's – because I had a connection to the mountains, forests, and the waters of the Northeast and didn't like the idea of their being murdered by acid rain.  I still get out.  We were skiing over Presidents' Week at Killington.  High-carbon footprint?  Yes.  But Killington, much to my relief, has a pretty thoroughgoing and sound approach to energy and the environment.  They offset, for instance, 100 percent of their electric use through the purchase of Renewable Energy Credits (RECs).
We just had a big snowfall this week in NYC.  The calming effect of the snow is palpable.  Here's a photo of the American Museum of Natural History after the snow with the banner for the big climate change exhibit juxtaposed against the Theodore Roosevelt statue.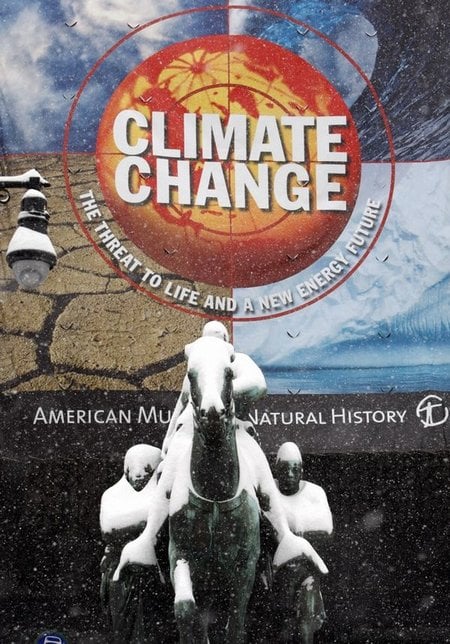 Photo Mike Segar/Thomson Reuters