18 days to go to biggest ever transnational election
On 5th June, voters from 27 EU countries will begin voting on who they wish to represent them in the European Parliament, it is the largest number of countries ever to vote for the only democratically elected transnational Institution in the world . Global Post have a very interesting Article on why the elections matter. The EU Observer, meanwhile, update us on the state of play 18 days before the election. There's an interesting update re. the candidacy of Elena Basescu (below), the former-model daughter of the Romanian President who was originally head of his party's list for the European Parliament. Following public outcry she had to withdraw from the list to make way for (what she called) "intellectuals". She is now running as an independent, but EU Observer reports her as saying ""Yes, I want to win, although I realize I might be aiming too high now." However, given the long line of entertainers, former models and singers that have gone on to become MEPs, I wouldn't discount her chances just yet!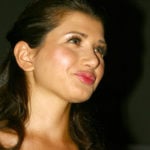 Romanian candidate for the European Parliament, Elena Bbasescu: she dreams of Europe.