Secy. Clinton Officially Confirms: The Eagle Has re-Landed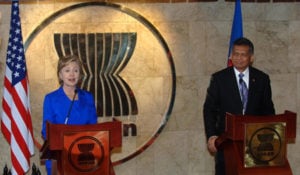 At the recent ASEAN Regional Forum in Thailand, U.S. Secretary of State Clinton, before the the 25 nations present, officially confirmed a substantial shift in U.S. foreign policy when she stated:
'On behalf of our country and the Obama administration, I want to send a very clear message that the United States is back, that we are fully engaged and committed to our relationships in Southeast Asia,'…"
In actuality, showing-up was half the battle, as the previous administration was often missing in action from such forums in the region.  Clinton did not shy away from this fact; to the contrary, she used it as an opportunity to criticize the the Bush Administration for focusing too much on North Korea and terrorism at the expense of the rest of the region.  Although she did not directly address U.S. concerns over the rise of China in the region, fear of Chinese regional hegemony is the catalyst for the change in policy.    Clinton went further, defining the type of engagement the U.S. will pursue in Southeast Asia, which will include counter-terrorism (Indonesia), human rights (Myanmar), economic development, and trade ties.  Movement on these issues will help to expand and cement America's soft power, which had been deteriorating.
To ensure that America has a continued voice in the region, Clinton signed a non-binding non-aggression pact with ASEAN, the Treaty of Amity and Cooperation.  This treaty will give the U.S. a greater voice at ASEAN regional forums, similar to what China already enjoys.  China signed this pact 6 years ago, America is late to the table, because the Bush Administration had serious reservations concerning the treaty:
Joining the TAC has been proposed by many in the Asia policy community for several years, and the idea was debated in the George W. Bush Administration. Objections to joining the TAC have included arguments that: the TAC's emphasis on non-interference in domestic affairs (particularly in Articles 2, 10, and 13) would constrain U.S. freedom of action, particularly its ability to penalize Burma; a concern that the treaty would undermine U.S. security agreements with Asian allies, notably Japan, South Korea, and Australia; a belief that acceding would accord greater legitimacy to the ruling Burmese junta; a view that ASEAN is insufficiently "action-oriented"; and a belief that the TAC is an ineffectual agreement.
Although the Obama administration has made statements in favor of human rights, it has refrained from taking bold stances, instead of opting for constructive engagement and dialogue.  Much of the future ASEAN-American discourse will be facilitated by a newly proposed ASEAN Mission at the ASEAN Secretariat in Jakarta.
Clinton gave special attention to Thailand,  which has traditionally been a strong  American ally, but  in recent years, has experienced governmental instability and been moving closer to China.  The U.S.  has also  had disputes over intellectual property rights and failed to negotiate a free-trade agreement  with the Thais.   Most recently, to add insult to injury, America's outreach to Cambodia and Laos, sans Thai consultation angered many in Bangkok.   Clinton's overt praise of  Thailand was meant to reassure them that they are critical to U.S. foreign policy in the Southeast Asia:
"…[A] lot of Americans don't know, Thailand has very deep and important ties with the United States," Clinton told FoxNews on July 20. "We have one of our biggest embassy operations in Thailand because Bangkok is the center for a lot of what we do in so many important areas."
America was also aware, that due to domestic separatist activities and ongoing anti-government protests,  Thai Prime Minister Abhisit Vejjajiva needed a diplomatic "win".
Clinton also stated that the U.S. is disturbed by growing military ties between North Korea and Myanmar (Burma).  There are strong suspicions that North Korea is selling nuclear and missile technology to the junta in Myanmar.  Thailand, which shares a 1800 km (1118 mi) border with Myanmar and houses over 100,000 of its refuges,  sees as a threat to its own security.   While praising ASEAN as a whole for its movement on human rights issues (as meager as they are), Clinton singled out Myanmar as moving in the wrong direction; further, she called on ASEAN to expel Myanmar from the organization, which was soundly rejected by the Thai PM, who is also ASEAN's current chairman.
In an attempt to apply pressure on the ruling junta, Clinton stated that an U.S. review of its policies toward Myanmar is pending the results of Aung San Suu Kyi's trial.  Bundling some form of rapprochement with the trial's outcome may not be the most effective way to spur political reform in Myanmar. Kaewsangthog and McDermid's article echos these concerns:
"There's nothing wrong with the US prioritizing democracy and human rights issues in Burma, if it were part of a consistent policy of prioritizing these issues everywhere, including say in China or Saudi Arabia," Thant Myint U, a Burmese historian and author of River of Lost Footsteps told Asia Times Online. "The perception of double standards damages America's image, and many in the region think that the US is beating up on the Burmese government just because it's relatively cost-free – and creates a very cynical view of American foreign policy.
Clinton also held a special meeting with the governments of Laos, Thailand, Cambodia, and Vietnam – the The US-Lower Mekong Ministerial Meeting, which is the first of its kind. The stated purpose was to discuss development and environment issues, for which the U.S. pledged greater economic support. This was also another way to increase U.S. soft power; Laos and Cambodia are major client states of China, which America has recently reinvigorated trade ties with.  Vietnam has been more apprehensive about China's growing influence in the region, having had historic sporatic conflict with China for most of its recorded history.  Over the last 10 years, Vietnam has formed stronger economic ties with the U.S.