Sore Losers, Hated Heads of State, and Kim Jong Il's BFF in the News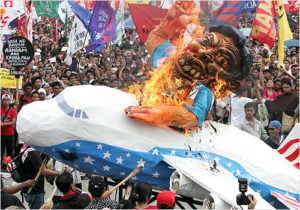 – Two of the runner-ups in July's Indonesian presidential election, Megawati Sukarnoputri and Jusuf Kall, will challenge the election results before the nine judges of the Constitutional Court of Indonesia.  They claim the voter list contained up to 23 million duplicate names, but neither has provided any evidence to support their claims.   Although there was some re-voting ordered in East Java, most analyst believe any irregularities found will not change the election outcome, the reelection of  the incumbent, Susilo Bambang Yudhoyono.  According to official election results, Yudhoyono received 60.8 percent, Megawati Sukarnoputri won 26.8 percent, and Jusuf Kalla just 12.4 percent.  More background information on the election, here.
– China, India, and the United States are not the only major powers attempting to make inroads into Southeast Asia.  Russia is seeking a "strategic partnership" with Vietnam.
– The Center for Public Policy Analysis (CPPA) has an excellent article concerning Laos, which is apparently competing to be North Korea's BFF (best friend forever).  Despite U.S. Secretary of State Hillary Clinton calling-out of Myanmar at the recent ASEAN Regional Forum for its suspected  arms deals with North Korea, Laos has shown fervent support for the Hermit Kingdom. Laos has done this even after the Obama Administration had sought  closer ties.  The regime in Vientiane has went as far as to attack U.S. President Obama and Secretary Clinton for thier criticism of North Korea and Myanmar.
-In the Phillipines, President Gloria Macapagal-Arroyo's popularity continues to slide as 8-15,000 protesters  burned her effigy at her ninth state of the union ("good bye") address.  Security was increased from last years state of the union due to security concerns.  Arroyo vowed to continue "fighting for the ordinary Filipinio" until her term ends in 2010; due to term limits she is not eligable for reelection.  She is being accused by the opposition of trying to manipulate the constitution to extend her stay in office, some have even accused her of masterminding recent bombing as an excuse to declare martial law.