Poll Shows Optimism Still Lives in Afghanistan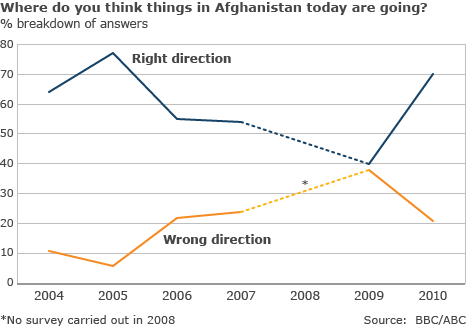 Good news for President Karzai, the Afghan army, and US/NATO fighting forces in Afghanistan can be found in a poll commissioned by the BBC, ABC News and Germany's ARD. 1500 Afghans from 34 provinces showed a surprising 70% affirmative that their country was headed in the right direction, a full 40% jump from last year. 68% of those polled are in favor of the American troop presence, an increase of a 5 from a year ago, and an overall promising sign. Reelected President Karzai can smile from the polls results as 72% of the Afghans rated him as excellent or good, with only 10% choosing 'poor'.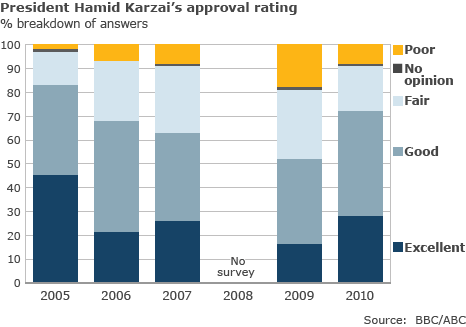 Also a good sign for all involved except for the group mentioned was the results showing only 6% favored a Taliban controlled government. The Taliban were also widely accused of being the reason behind all of the violence in the country. Polls are polls and inherently flawed and when performed in unstable, violence-threatened environment, but these results do show signs of resiliency, if not light.