Arrests at State Oil Academy Commemoration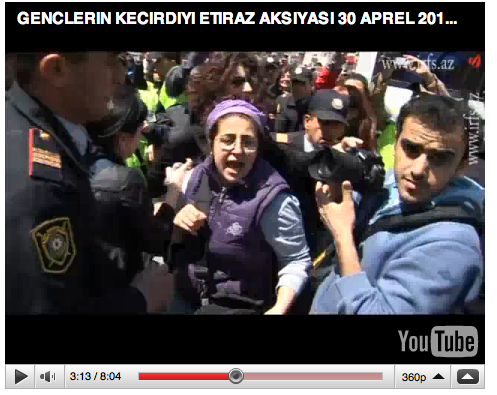 Police broke up a commemoration in Baku last Friday of the murders of twelve people—most of them students—at the State Oil Academy on 30 April 2009.
The perpetrator of last year's massacre, Farda Gadirov, was a Georgian of Azeri descent who shot students and staff indiscriminately once he gained entry into the academy. As police arrived and sealed off the building, Gadirov turned his pistol on himself and committed suicide. His motives remain unclear, although he has often been described as a psychologically unstable loner. Four alleged accomplices are currently on trial for aiding Gadirov, and on Friday, the prosecutor's office announced that an arrest warrant had been issued for a Georgian of Armenian ethnicity who allegedly masterminded the attack in 2009.
Estimates of the number of young people arrested at the commemoration vary, although Radio Free Europe reports that "dozens" of mourners were detained and that police raided a youth group headquarters on the same day.
Opposition web site http://irfs.az/ has video footage shot at the scene showing a number of mourners being shoved by police and taken into custody.
Authorities said the arrests took place because the participants were holding an "unauthorized action," although it was clear that the police were anticipating that members of pro-democracy youth organizations would attend the commemoration.
The day prior to the incident, police arrested youth activist Tural Abbasli outside his flat, after which he was reportedly sentenced to 10 days in custody for "creating social disorder." While a "sentence" on the very day of one's arrest may sound odd, a Human Rights Watch researcher told me five years ago in Baku that this is not uncommon in low-level political arrests, where the suspect may be immediately hauled before a judge who promptly hands down a guilty verdict and a short jail sentence.
According to a knowledgeable source in Azerbaijan, Abbasli was being held in the Binagadi district of Baku, and was due to be released on 9 May.
The source also reports that Ahad Mammadli (Vice-Chairman of the youth organization of the Musavat Party) and Jamil Hajiyev (chairman of the Democratic Party's youth organization) were arrested on April 30 and will be released on May 10.