Weekly Update: Financial Regulatory Reform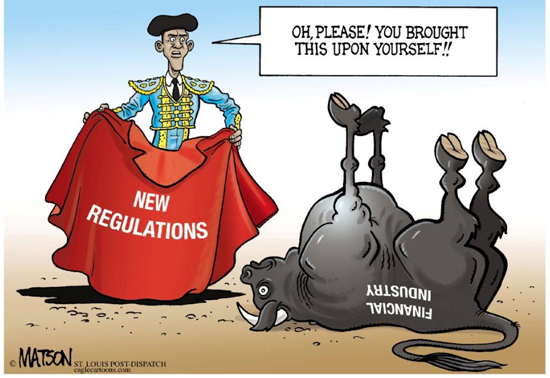 Good Tuesday morning, readers! Thank you to everyone who sent kind e-mails during my hiatus in April; it's nice to know people actually read and appreciate my sometimes mischievious perspective.  In an effort to better inform my readers and keep you abreast of the latest development in Financial Industry Regulatory Reform, I will be doing this run-down of developments on a weekly basis, categorized under 'Financial Reform' in the RH menu on the Global Markets page.  I will also occasionally link to credible groups and organizations where you can become proactively involved as an engaged citizen. Remember, democracy requires action!
More signs we live in strange times: Regulatory filings yesterday showed Goldman Sachs and JPMorganChase both made money on every trading day in the first quarter, a remarkable feat. But the FT today suggests the spotless records could further encourage regulators to reign in risk-taking at investment banks. The basic message now is that any good news about Wall Street making money is really bad news for the banks.
FROM THE Financial Services Forum: According to FDIC Chairman Sheila Bair, the proposal requiring banking companies to divest of their derivatives businesses would push the activity into 'less regulated' venues and areas 'beyond the reach of federal regulation.' Learn more: www.financialservicesforum.org
DRIVING THE DAY – Amidst criticism from the right that the U.S. helped 'bailout' Europe with liquidity swaps, WSJ reports that Fed Chairman Ben Bernanke will brief lawmakers today on the central bank's decision to extend dollar loans to EU banks … Senate Energy and Natural Resources Committee holds a hearing at 10 a.m. on the BP oil spill and POLITICO's Jake Sherman reports below that the event will likely be a blame-fest in which BP blames Transocean, Transocean blames BP and Halliburton and Halliburton says it did nothing wrong. … As more votes approach on the Dodd bill, Republicans have a gift-wrapped issue in Fannie Mae's request for another $8.4 billion in federal money. GOP opponents of the Dodd bill can renew criticisms that the measure is fatally flawed because it contains no fix to continued government ownership of mortgage giants Fannie and Freddie, which continue to hemorrhage cash. … Sens. Jeff Merkley (D-Ore.) and Carl Levin (D-Mich.) have submitted their proposed amendment that would ban proprietary trading by banks, a step beyond what even the Volcker rule envisions. The measure has backing from Dodd and the administration but is fiercely opposed by banks and many Republicans.
FLASH CRASH' HEARING TODAY – As soon as the timing for today's House Financial Services Committee , Chaired by Barney Frank, hearing on the 'Flash Crash' came out, the event did not appear likely to be a blockbuster. The 3 p.m. slot is not usually prime time. And indeed a government official told POLITICO's Eamon Javers last night: 'Don't expect fireworks – they don't schedule hearings on the hill for 3 p.m. unless there's no news. If it was going to drive headlines, they'd put it in the morning.' And while the regulatory panel includes top dogs Mary Schapiro (SEC) and Gary Gensler (CFTC), the industry panel does not. Instead the panelists are Lawrence Leibowitz, Chief Operating Officer, NYSE Euronext, Mr. Eric Noll, Executive Vice President, NASDAQ Transaction Services and Terrence A. Duffy, Executive Chairman, CME Group Inc. Webcast
LAST WEEK's '
 TREASURY TODAY – Speaking of financial reform, Treasury Secretary Timothy Geithner will meet with Sen. Voinovich (R-Oho) today as part of the administration's lobbying campaign to draw GOP votes for final passage.
MARKET BLAST – RELIEF RALLY COOLS, Bloomberg's James Regan and Ron Harui report: 'The euro lost all of yesterday's gains on concern the almost $1 trillion lending plan to bail out indebted nations in Europe will cool growth in the region. Asian stocks, copper and U.S. index futures fell after China's inflation rate accelerated to an 18-month high.'


DODD HINTS AT DERIVATIVES PROGRESS – Senate Banking Committee Chair Chris Dodd (D-Conn.) spoke with Politico's Meredith Shiner last night. On derivatives: 'Well I know people are working on trying to come to some accommodation because there are people with amendments on Title VII of the bill. So we're trying to figure out if we can come to some accommodation. I'm not going to get into specifics. … And even that is not to suggest that everybody on one side will vote on the agreement you've tried to [reach]. … We still have work to do on [derivatives]-there's no question. We've always known that. So a lot people are spending a lot of time trying to come to some common points on this. And I'm confident we will.'
HOW VOLCKER SAVED WALL STREET – I'm going to have to write an entire piece under this title soon, but for now:  TNR's Noam Scheiber, in a piece out this morning, reports: 'Legendary Fed Chairman Paul Volcker, a hero to Wall Street reformers and scourge of megabanks, penned a letter to Banking Committee Chairman Chris Dodd proclaiming that the [Sen. Blanche] Lincoln approach overreached. Volcker was quite possibly the only person in America with the credibility to stop the Lincoln provision-similar pleas from the administration, the Fed, and the FDIC all seemed to fizzle in recent weeks-and it looks like his intervention is having the desired effect. But before the industry rushes to celebrate Paul Volcker as its savior, it should remember why it feared him in the first place. … [T]he reason [Volcker] feels comfortable opposing the Lincoln provision is that the Volcker Rule already prohibits the most noxious form of derivatives trades.'
GOP 'TRYING TO GUT CONSUMER PROTECTIONS' – According to a press release from Jim Manley, spokesman for Senate Majority Leader Harry Reid: 'After two weeks of stalling and delay, we now have a better idea of how big bank executives instructed Republicans to kill reform during their secret meeting last month. Republicans are trying to gut consumer protections and carve out a loophole that would exempt virtually all of Wall Street from oversight. Recent events in the financial markets have reminded us that leaving the same rules in place to govern Wall Street will only leave our economy vulnerable to instability. At some point, Republicans have to put the best interests of seniors, small businesses and middle-class families ahead of their desire to stack the deck in favor of their friends on Wall Street.'

Source:   Politico's Morning Money; Financial Services Forum                Photo: From the St. Louis Post Dispatch