Donkey bloggers and press freedom in Azerbaijan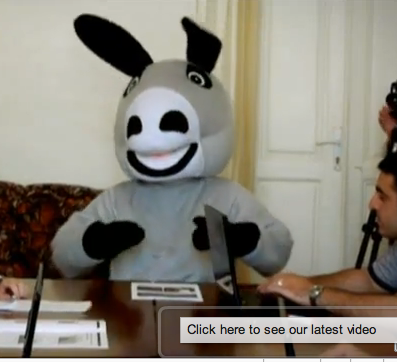 Reporters Sans Frontieres (RSF) released their 2010 "Predators of Press Freedom" list on May 3. The list consists of the top forty "politicians, government officials, religious leaders, militias and criminal organisations that cannot stand the press, treat it as an enemy and directly attack journalists," says the RSF web site. Many of the usual suspects were named, including Chechen President Ramzan Kadyrov (why was this the first year he made the list?), Zimbabwe's president Robert Mugabe, and the Columbian terror group FARC, which has kidnapped roughly fifty journalists.
So one wonders what Azerbaijani president Ilham Aliyev's reaction was when he was informed that he made RSF's top forty. The listing for Aliyev, which can be found here, cites the arrest and imprisonment of Eynulla Fatullayev, a well-known muckraker, and two young pro-democracy activists, Adnan Hadjizadeh and Emin Milli.
Eynulla Fatullayev has the distinction of being the one journalist in Azerbaijan who makes everyone uncomfortable – the government, the ruling party, and the opposition. Editor of the weekly Russian-language Realny Azerbaijan and the Azeri-language weekly Gündəlik Azərbaycan, Fatuallyev has gotten in hot water with the authorities by writing investigative pieces on corruption as well as authoring a speculative article in 2007 on what targets in Azerbaijan Iran might attack in the event of a US strike on Iranian nuclear facilities.
The Azerbaijani prosecutor's office used the article to bring a number of additional charges against Fatullayev after he was already imprisoned for other alleged crimes in what appeared to be an effort to silence him once and for all.
As if that weren't enough, Fatuallyev has once again been charged with a crime while in prison – this time for possessing heroin, which allegedly was found in his cell during a search on 30 December of last year.
In recent testimony at Garadaqh District Court in Baku, even his warden admitted that planting evidence would be easy. According to news site Caucasian Knot, the warden also said, "In principle, one can not only enter and plant something but also strangle a convict" – an incredibly disturbing admission.
Fatullayev is currently being held in prison "Colony Number 12," and according to the Caucasian Knot article, he described prison conditions as "unbearable" and Colony 12 as "simply a concentration camp."
As of late April, the European Court of Human Rights—commonly referred to as the "Strasbourg Court"—ruled unanimously that Fatullayev's rights had been violated and said that the Azerbaijani government should release him and pay 25,000 euros in compensatory damages. But the Azerbaijani Supreme Court has declined to accept or implement the Strasbourg Court's decision and the Azerbaijani representative to the Court says the government will appeal the ruling.
As for Emin Milli and Adnan Hadjizadeh, the two so-called "donkey bloggers," they have recently been moved to separate prisons outside of Baku. They had been sentenced to prison terms of two years (for Milli) and two and a half (for Hadjizadeh) after a bizarre series of events, starting with a fight that broke out at a restaurant last year, the resultant jailing of the victims of the brawl while "investigations" were carried out, and finally the conviction of the victims for starting the fight. Never mind that testimony from the waitress contradicted the prosecutor's case.
And never mind that, coincidentally, the two defendants had been circulating a hilarious video of a pantomime donkey (from Germany, no less) holding a news conference during which he explained that life is difficult for donkeys in Europe, but in Azerbaijan, "the possibilities are enormous."  This was widely interpreted as a swipe at the government, criticized by some in the opposition for paying astronomical prices for imported donkeys from Germany. The donkey in the video (played by Hadjizadeh)  informed the press that he could speak three languages and play the violin. "I'm a top-ranked donkey!" he delcared.
Hadjizadeh and Milli were convicted of "hooliganism" (khuliganstvo or хулиганство), which was a favorite catch-all charge against dissidents and social undesirables in the USSR.
On 12 May, I talked via Skype to Hadjizadeh's girlfriend, Parvana Persiani, who is currently a graduate student at Central European University in Budapest. She told me that Adnan and Emin will take their case to the Strasbourg Court regardless of the outcome of their appeal to the Azerbaijan Supreme Court: "In any case we will move to the Strasbourg Court, because there were a range of violations. They were treated badly, they were not provided with a lawyer, they were not allowed to see their parents…the whole legal case is step by step a violation of human rights…"
RSF's inventory of imprisoned, assaulted and harassed journalists in Azerbaijan could have been much larger, actually. In March of 2008, Genimet Zakhidov, editor of the opposition daily Azadlyg (Freedom) was sentenced to a four-year term for hooliganism and inflicting bodily harm. Although it was obvious from the outset that Zakhidov was the victim of a clumsy set-up (a couple staged a brawl with Zakhidov on a Baku street in late 2007) and despite inconsistent testimony from witnesses, he was convicted nonetheless and sentenced to a four-year term.
Zakhidov's brother, Sakit Mirza Zakhidov, was tried and sentenced in late 2006 for drug use after police claimed that they had found 10 grams of heroin in Sakit's possession – an allegation that has been scoffed at by international NGO's and other groups. Sakit's satirical poetry—often laced with expletives—had frequently targeted the Azerbaijan's ruling elite, including Heydar Aliyev, the late father of President Ilham Alliyev.
After serving nearly all of his three-year prison sentence, he was released in April of 2009.
Political prisoners in Azerbaijan are often pardoned by the president on national holidays as a gesture of magnanimity. Genimet Zakhidov, for example, was released after serving more than half of his four-year sentence in March of this year in connection with Novruz, the Azeri new year's holiday.
Look for the "donkey bloggers" to be released likewise on a future holiday, such as the anniversary of former president Heydar Aliyev's birthday on May 10 – maybe next year.
Azerbaijan had, not long ago, the distinction of having more journalists in prison than any country in the former Soviet Union. While the current number is a mere three, the atmosphere of intimidation, physical assaults, and arrests continues unabated.
Watch for posts on this blog in the next week or so regarding the media situation in Georgia and Armenia.