Euro crisis a Kosovo moment for EU?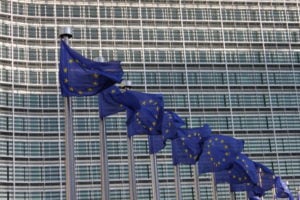 Robert Nolan guest blogs from Brussels
As European finance ministers meet once again this week in Brussels, questions linger over the nature —  and pace — of economic reforms under consideration by the European Union in the wake of the Greek tragedy.
While many national governments have agreed to new austerity measures amidst growing resistance from trade unions and long-time euro-skeptics , a perfect storm of financial challenges has arisen,  impacting EU countries both inside and outside the euro zone.
Not unlike the U.S.,  the EU has indicated it will respond to the recent and longer-term crisis by considering the separation of lending and investment services in the banking sector and greater regulation of credit ratings agencies, which many blame for Europe's recent fiscal problems.  Hedge funds are also on the hot seat, with the UK being hardest hit by tighter regulations in that sector.
"These people don't like to come out in the light of day," European Commissioner for Internal Markets Michel Barnier told the Financial Times today, in regard to peddlers of  sovereign credit default swaps, which many blame for recent economic instability.  "We are going to flood them with light."
Finance ministers also continue to discuss a "stabilization fund" for European countries to help address future potential crises to the tune of  €440 billion, with the source of such funds and its final size still up for debate.
While some would advocate a large package of reforms be pushed through the European Commission and decided on by the Council and Parliament, the EU apparatus is more likely to take an "a la carte" approach to the reform process, according to many insiders in Brussels.
One major task for EU finance ministers will be to emerge from meetings this week with a coherent message.  Mixed signals from European leaders have caused the euro to continue its nosedive against the dollar, and dithering has driven uncertainty in markets worldwide.
Germany in particular has expressed concern regarding reforms, having footed the largest portion of the€ 750 billion rescue package.  As the most populous and wealthy EU nation, Berlin has insisted that European governments make a strong commitment to keeping federal deficits below limits mandated by the EU, which have not been strictly enforced in the past.   Giving Brussels  "tools with teeth" to keep EU countries in check with–  greater oversight of national budgets and the threat of real sanctions –touches a raw nerve in many quarters of Europe,  but there is little doubt that more needs to be done on this front if a future crisis is to be avoided.   One member of the European Parliament, which is meeting in Strasbourg to discuss the so-called "2020" economic agenda, likened the current financial situation to a World Cup soccer match – without a referee.
Aside from the historic bout of self-reflection taking place in Brussels today as a result of the financial crisis, many are wondering if the decisions on financial reforms can be taken quickly enough to prevent further economic decline.  For an organization that has built its reputation on deliberation and long term planning, the recent economic aftershock presents a relatively unprecedented challenge.  Indeed, one insider recently referred to the financial reforms as a Kosovo moment for the EU.