Myanmar and Nuclear Ambition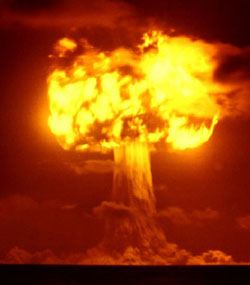 This is an update to an earlier blog post concerning the Burmese Junta's nuclear ambitions and the aid it might be receiving from North Korea.  Last year, the Japan Times ran an article on this topic, now Al-Jazeera has aired an investigative report.
In the strategic footsteps of North Korea, Myanmar's leaders are also building a complex network of tunnels, bunkers and other underground installations where they and their military hardware would be hidden against any external aerial attack, including presumably from the United States.

Based on testimonies and photographs supplied by high-ranking military defectors, the documentary will show for the first time how Myanmar has developed the capacity and is now using laser isotope separation, a technique for developing nuclear weapons. It will also show how machinery and equipment has been acquired to develop ballistic missiles.

That Myanmar is now trying to develop nuclear weapons and has become engaged in a military partnership with North Korea will dramatically change the region's security dynamic. Myanmar is a member of the Association of Southeast Asian Nations (ASEAN), a 10-nation grouping whose members jointly signed the 1995 Southeast Asian Nuclear-Weapon-Free Zone Treaty, also known as the Bangkok Treaty.
This apparent confirmation of the junta's aims has frozen the Obama Administration's push for a rapprochement with Myanmar,  a nation which has been diplomatically isolated by most Western powers for over 20 years.  The first signal is that American Democratic Senator  Jim Webb, chairman of the US Senate foreign relations subcommittee on east Asia and Pacific affairs, has postponed his next scheduled visit to Myanmar in light of the allegations.
Still, there are some questions as to Myanmar's  technical ability to pull off such a feat.  It is believed they are attempting a laser isotope separation method, which is notoriously difficult, having failed to work in many developing nations, most of which having stopped their own projects involving the technology.  If the junta did manage to construct a bomb, there is also a lack of  evidence that the missiles it has developed to mount them on will actually work.
The report's main source, Sai Thein Win, is a former Myanmar army major who recently defected to the West, bringing with him a trove of information never seen before outside of the country. His documentation has been scrutinized by, among others, Robert Kelley, a former US weapons scientist at the Los Alamos facility where work is conducted towards the design of nuclear weapons.
SNIP
He also has pictures of a top secret nuclear facility located 11 kilometers from Thabeikkyin, a small town near the Irrawaddy River in northern Myanmar.

He claims this is the headquarters of the army's nuclear battalion and that it is there the regime is trying to build a nuclear reactor and enrich uranium for weapons. Missile development, he says, is carried out at another facility near Myaing, southwest of Mandalay, in central Myanmar.
After an aborted first attempt, by then democratic Burma, at achieving peaceful nuclear power in the mid-1950's, the junta continued efforts in 2001, with the help of Russia.  However, the Russian nuclear research reactor was never delivered, although some Burmese scientist were trained in Russia for the purpose of maintaining it.  Many believe the junta  has been working with North Korea, since the reestablishment of diplomatic relations in 2007.   The North Korean and Myanmar regimes seem to be kindred spirits in their mutual fear of invasion by the United States and dependence on China.
North Korea's role in Myanmar 's nascent nuclear program is still a matter of conjecture. But in May this year, a seven-member UN panel monitoring implementation of sanctions against North Korea said its research indicated that Pyongyang is involved in banned nuclear and ballistic activities in Iran, Syria and Myanmar.
SNIP
Aung Lin Htut, a former intelligence officer attached to the Myanmar Embassy in Washington until he defected in 2004, claims that soon after General Than Shwe came to power in 1992 he "thought that if we followed the North Korean example we would not need to take into account America or even need to care about China. In other words, when they have nuclear energy and weapons other countries … won't dare touch Myanmar."