Sudanese Opposition Newspaper Exposes Iranian Weapons Factory Near Khartoum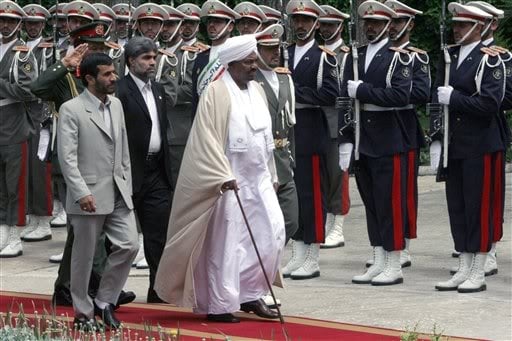 Rai al-Shaab (Opinion of the People), a Sudanese newspaper run by opposition leader Hassan al-Turabi, published an article earlier this month describing a secret weapons factory run by the Iranian Revolutionary Guard Corps (IRGC) on Sudanese soil. Sudanese officials have since arrested and tortured al-Turabi and several of his staff members and shut down the newspaper. Lucky for us, several Arab bloggers kept the story alive last week.
The unconfirmed reports allege that Iran is using the factory to distribute weapons throughout Africa and the Middle East, most often to terrorist organizations. The seizure in Thailand in December of thirty-five tons of weapons supposedly bound for Hamas seems to have prompted Iran to diversify its arms distribution. Israel and the U.S. may have already been aware of the facility, and Israel has proven it is not shy about attacking shipments of weapons most likely meant for Hamas or other terrorist groups. Three airstrikes on truck convoys in Sudan in early 2009 have been attributed to Israel. One attack in January left thirty-nine people dead and seventeen trucks destroyed.
Tehran's official relationship with Khartoum is not new; in 1991 Iranian President Rafsanjani pledged $17 million in financial assistance and arms shipments during a personal visit to the Sudanese capital. The recently discovered arms factory seems to be part of the 2008 defense pact signed by the two countries.
As last week's attacks on Gaza aid convoys suggest, Israel will not back down when threatened by regional powers attempting to assist Hamas with material support. The international community can be sure that any weapons shipments departing the Khartoum facility will be closely watched and likely attacked by Israeli forces.
Iran, for its part, is not doing anything to promote stability and peace between Israel and its neighbors. Hamas must be allowed to be a part of negotiations with Israel but this is not an option if violence erupts again with the help of Iranian weapons. Rather than using the IRGC to destabilize the region, Iran should shut down arms distribution networks and commit to finding peaceful solutions to ending the siege of Gaza. Chances of this happening? Slim to none.