World Cup Music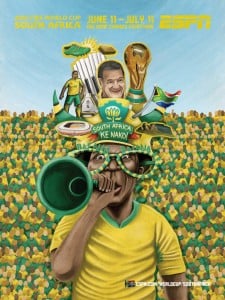 Scheduling meetings here in Brussels and Paris has been suspiciously tough this week, with one person I met with actually admitting he was late because staff was gathered round the conference room television watching, yup, you guessed it, World Cup matches!
If you have not checked out Africa blogger Derek Catsam's posts from SA, now is the time to do so. As Derek's posts indicate, the World Cup really is a celebration, and what's a celebration without music? And while we're at it, who does music better than AFRICA?
Here is a short list to some World Cup related music, from mainstream to the African street.
The official World Cup Song, Wavin Flag, is by Canadian-based, Somali rap artist sensation K'Naan. You can watch the performance at the Kickoff Concert here.  The hotter version is below, and more K'Naan on his You Tube channel
The concert was spearheaded by legendary South African horn player Hugh Masekela, who starting things off with his 1968 Grammy winning song "Grazing in the Grass."  Original version below.
NPR's new Latin America music blog, Alt.Latino, streams seven classic "futbol" tracks here, including one of my favorite Jorge Ben songs, Ponta de Lança Africano, which Jasmine Garsd and Felix Contreras explain "is about an imaginary African player who is slick on the field."
Los Angeles bastion of sound music selections KCRW offers an eclectic selection of tracks, one for each team competing in the cup. According to the 'pitch' (ha ha),  "You'll find Phoenix in studio to represent the French, celebrated kiwi Neil Finn of Crowded House supporting New Zealand, Buraka Som Sistema waving the flag for Portugal, and many more."
And event listings Web site Flavorpill's Flavorwire dedicates a song selection for each country participating in the cup, loosely based on past performances, in  The Ultimate World Cup Mixtape: A Song for Every Nation.
Finally, if none if these is quite up to your speed, here is a mix of "Kwaito" —  South African inspired house music — I put together a few months back.  Go Bafana Bafana!