'Restrepo' a Must See Film on the War in Afghanistan
If there is only one film you see this summer, make it 'Restrepo.' Awarded the 2010 Sundance Film Festival Grand Jury Prize for a Documentary, it follows the lives of one U.S. platoon of soldiers in Afghanistan's Korengal Valley during their entire 15 month deployment. The valley is considered one of the U.S. military's most dangerous postings.
See a trailer of the film here.
The footage for the film was captured by journalists Tim Hetherington and Sebastian Junger From May 2007 to July 2008, as they lived with the men of the Second Platoon, Battle Company of the 503rd Infantry Regiment (airborne).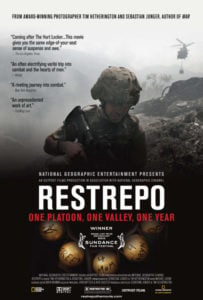 The film shows every side of men in war, from the silly and hilarious to the bizarre and heartbreaking. It captivates and frightens from the opening scene. But Hetherington and Junger's real accomplishment with 'Restrepo' is how they show the human side of the soldiers they lived with. It brings the war in Afghanistan, now America's longest war ever, out of the headlines and into your heart and head.
The film will be in wide release in theaters across the U.S. from June 25. But for those who can't wait, the Human Rights Watch Film Festival will also be showing 'Restrepo' starting June 18.
Some of the screenings during the festival include Q&A with Hetherington and Junger.