Lots of color, but don't call it a world music festival
Much needed relief from eurocratic Brussels was provided over the weekend by the folks at Festival Couleur Cafe.  Founded in 1990 to highlight music from Africa and the Caribbean against the diverse background of Brussels, the promoters offer the somewhat confusing description of their carnival as it exists today: " Couleur Café can no longer be rightfully described as a world music festival but more like a festival that proposes a full array of music styles coming from all over the world."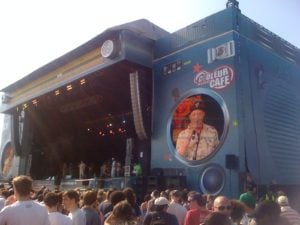 I'll let you figure ponder that one while I attest to the quality of the musicians on the final day of the three day festival.  I was lucky enough to catch a strong set by the "Golden Voice of Africa,"  Malian wonder Salif Keita, whose music and band of happy traveling musicians had the Africans and the euro-hippies swaying, shucking and even singing along to his latest record, La différence.  It's beautiful.
If Keita represents the honored elders of Afro-pop, relative newcomer Biloji is trumpeting in the new era of so-called "whirled music", fusing his creative brand of Belgian hip-hop with his Congolese roots. His new record, Kinshasa Succursale, is a tribute to Congo's 50 year anniversary of independence, best heard on the track Independence Cha-Cha, below.
This dude is hot.  And while I mean that in a purely musical way, some of the ladies on hand might have a different opinion.  In Brussels, where he is based, Baloji played an acoustic rendition of a sonically mind-bending collaboration with Kinshasa's low-tech, hi-fi human sound system, Konono No1.
BALOJI feat. KONONO n1 – KARIBU YA BINTOU from BALOJI on Vimeo.
The last act I was able to catch at the festival was the Colombian techno-roots cumbia outfit Systema Solar, who really rocked the party with their high-energy, Afro-Latin coastal sound.
Mi Kolombia – Systema Solar from jorge silva on Vimeo.