Sadly, Another Day, Another Deadly Bombing in Iraq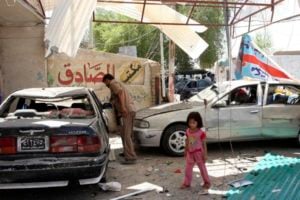 Sad news from Iraq today as insurgents killed twelve people on the final day of a religious festival that brought as many as 1 million pilgrims to the capital to worship at the shrine of Imam Musa al-Kadhim, the seventh Shi'a Imam.
The AP reports: "Six people died in eastern Baghdad when a roadside bomb exploded Thursday morning as pilgrims were walking home from the mosque in the Kazimiyah neighborhood, while a car bomb in southern Baghdad killed another person. Five more people were killed by a roadside bomb in northern Baghdad, said Iraqi hospital and police officials."
Despite a formidable security presence the bombings mark a second consecutive day of violence.
On Wendesday, attacks killed more than 50 and injured hundreds as Shi'a pilgrims were targeted in a what has been clearly characterized as a series of coordinated attacks, designed to inflame sectarian tensions within an Iraqi power vacuum that is further deteriorating as US troops pack-up and head home.