The Stoning of Soraya M. (2008)
Part of what makes this movie sickening is that it is based on a true story.
Set in 1986 Iran in a small village, the story revolves around a woman who refuses to grant her husband a divorce because it would leave her and her children penniless. Seeing no other way around it, the husband, Ali, threatens and cajoles others in the town to denounce Soraya as an adulterer.
[kml_flashembed movie="http://www.youtube.com/v/uWbdn5YfMJs" width="425" height="350" wmode="transparent" /]
The ending is reminiscent of the story The Lottery written by Shirley Jackson except in her work the stoning is a surprise.
Iranian-American actress Shohreh Aghdashloo does an excellent job as Zahra, Soraya's aunt, who tries desperately to save her niece's life.
Navid Negahban plays the despicable Ali. A more evil husband would be hard to find, except perhaps in the role John Cassavetes played in Rosemary's Baby.
Its critics claim The Stoning of Soraya M. is preachy and heavy-handed but it is not so: this film illuminates the plight of women everywhere in the world.
What is disturbing is the stoning scene which is shockingly real. It is reminiscent of the torture of Jesus Christ in The Passion of the Christ, which was a snuff film.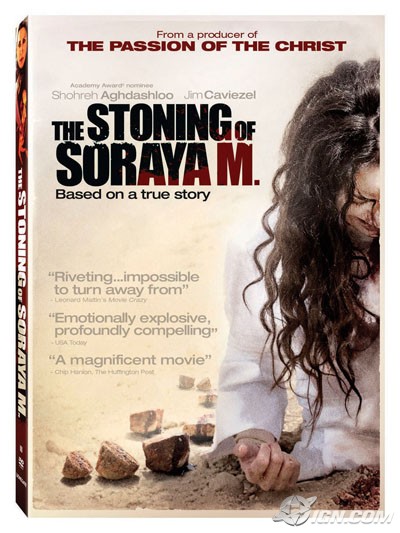 Perhaps that is because James Caviezel (who played Christ in The Passion) is cast as a journalist out to tell Soraya's story and Stephen McEveety, who produced The Passion, also produced this film.
While the movie is set in Iran, its message about human rights in general and women's rights in particular is universal.
The Stoning of Soraya M. is available to rent.
Murphy can be reached at: [email protected]