China's Problem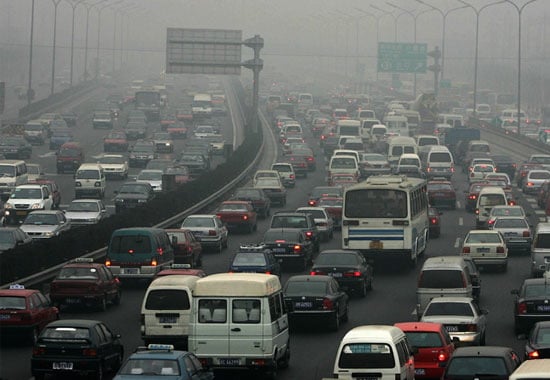 There are more than a few problems in the People's Republic of China, to be sure, but the one to which I'm referring here is pollution.  I went to an event last week sponsored by the Innovation Center for Energy and Transportation (ICET) and hosted by the India China Institute as part of Climate Week NY°C.
Even though the message from the panelists was that China was working on a number of fronts to address climate change, there were some depressing aspects of the evening.  The good news includes the fact that China has fast become one of the leading manufacturers and exporters of renewable energy infrastructure.  (That they're violating international trade rules in the process is, certainly, a factor to be considered.)
One of Suntech's key American executives, for instance, extolled the virtues of their product and the fact that they were building a factory in Arizona.  The international program director for the Center for Climate Strategies talked about creating climate action plans with their Chinese partners.  One of the ICET folks talked about the critical work they are doing to help create a greenhouse gas registry, an essential component of any GHG regulation program.
But Feng An, founder of ICET, when asked by me about urban mass transit, said that cars are crowding out any growth in urban mass transit and bike lanes, a traditional people mover in China, are being destroyed.
Further, although electric vehicles are definitely on the radar, ICET's main thrust on automotives is to increase the efficiency and range of fuel options for existing and future internal combustion vehicles.  Dr. An said, wrongly, that EV's don't improve the situation if you are using dirty fuels for electric power generation in the first place.  Because of the inherent inefficiency of the internal combustion engine, you definitely get much more bang for the environmental buck even if the EV's energy source is coal-fired electricity.  It is infinitely preferable, obviously, to have power from renewables.
A question came up regarding the role of democracy in a clean-energy economy, and the panelists seemed to, for all intents and purposes, pooh pooh the importance of an open society.  This is one thing that has – for many years – irked me about how the West approaches China.  We'll ignore just about any insult to human rights if the market conditions are right.  I've written about this a number of times here, including in my criticism of Tom Friedman's blasé attitude about this.  (Here's another take on China and its failings in this sphere, as well as its selective inattention to pollution at home, plus this from Bloomberg Businessweek:  Spending Enough to Clean Up Pollution?)
The PRC is not soon going to change the way it does business.  Like many others, I used to think that a growing economy would lead to a more open society, including greater emphasis on helping protect the Chinese people from the ravages of water and air pollution.