China's 5th Generation Fighter Aircraft?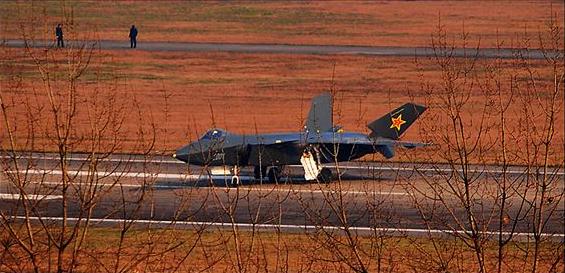 A development of interest over the Holidays was the leaking of a series of photographs purportedly taken of the Chengdu J-20, China's fifth generation fighter aircraft.
A competitor to the F-22 Raptor, the J-20 is expected to attain initial operating capability by 2018 as testified by officials of the National Air and Space Intelligence Center.
According to an analysis presented by Defense News, the photos show the J-20 with a canard-delta twin-engine configuration, diverter-less supersonic intakes and a shaped nose that is consistent with the use of active electronically scanned array radar. The aircraft, when operational, will be the first produced by China to make extensive use of stealth technology.
"China has the money, they have the industrial expertise, they have the scientific base, the drive and motivation and of course the benefit of American research over 30 years acquired by legal or illegal means," one anonymous observer noted on a popular blog site. "These enablers give China wide latitude in matching or exceeding American designs that are now 20 years old."
One major drawback of the project, however, appears to be China's reliance on Russian-produced 117S engines. While the J-20 airframe demonstrates a technological leap in metallurgy and stealth innovation, the PRC's inability to produce an indigenous power plant will ultimately prevent Chinese dominance in aerospace. Even so, such a scenario would present numerous other opportunities for Sino-Russian security cooperation.
According to some studies, the aircraft is also expected to require an exceedingly costly level of maintenance for general sustainability.
While the authenticity of these photos cannot be verified, their release to the public via the interwebs may be part of a purposeful deception, or perhaps no more than the product of a Photoshop prankster. (Recall the hullaballoo surrounding the controversial "F-19" stealth concept aircraft of the 1980's.)
Nonetheless, an article in Aviation Week presents yet another facet of this issue:
China military specialist and DTI contributor Rick Fisher notes that "in China's military fan web culture, the rapid intervention of the censors is always a boost for the credibility of the poster" and adds that his sources are also predicting an early first flight.

"Such drip-by-drip revelations are apparently condoned or even encouraged by the PLA," Fisher adds. "One rarely hears any more of web posters going to 'drink tea', the Chinese euphemism for having your life upended by the military or party police."

Overall, Fisher notes, "the web leaks will continue, as this feeds directly into the Communist Party's massive and well-stoked program to promote militaristic nationalism."