The Nuclear Crisis in Japan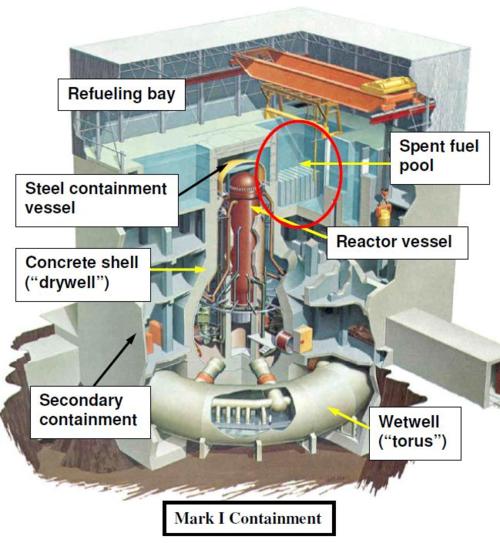 In a previous post, I flagged an analysis by Robert Alvarez on the situation with the spent fuel pools.  Here is a look from this morning at the situation from another expert, David Wright, at the Union of Concerned Scientists:  Spent Fuel Pools at Fukushima.  Wright concludes that the indications are that the water level in the pool at the Reactor #4 site has fallen low enough to expose the fuel rods.  Wright notes that the explosion on Tuesday there would likely have come from hydrogen produced by the spent fuel.  There was a subsequent fire that, in his view, would be from the zirconium cladding around the fuel rods.  The secondary containment at this building has been lost as a result of the explosion, so any radioactivity has a clear path to the air.
Meanwhile, there is excellent ongoing coverage from the FT here.  Various posts look at the state of play in the rest of the world, as nuclear power comes under a microscope.  For instance, as I noted here the other day, the Germans have been throttling back.  Now Angela Merkel, to her enormous credit, has ordered the closure of seven plants for a complete safety review.  The Guardian has that story.
I only wish the President of the United States exhibited the same degree of circumspection.  Obama defends use of nuclear energy despite calamity in Japan is the story from the AP via the WaPo.  I really wonder if the President and Energy Secretary Chu, both pretty smart guys, have any perspective on the nuclear boondoggle they continue to pursue.  The White House had a press briefing the other day with the Nuclear Regulatory Commission Chairman and a deputy secretary from Energy.  They all made, as you might expect, all the right noises about safety.  But the message, it seems to me, that should be coming from the White House, at this very late date, is that nuclear power needs to be, at the very least, reconsidered.  That's not what's being said.  Tant pis.  Something about Rome, Nero and a violin?