The Wind that Shakes the Barley (2006)
This film has drawn the ire of many a critic.
Which is understandable given its content.
The movie takes place in Ireland in 1920. Damien O'Donovan (played remarkably by Cillian Murphy) decides to join his brother Teddy in fighting the British instead of studying medicine in London.
The violence with which the British Black and Tans treat the Irish is disturbing and the film is at times graphic.
[kml_flashembed movie="http://www.youtube.com/v/Hc61Cjmmbkg" width="425" height="344" allowfullscreen="true" fvars="fs=1" /]
It is because of this depiction of the British that some critics called it propaganda, a recruiting tool of the Irish Republican Army (IRA). However, the abuse occurred and is no more an attack on Britons than deploring Abu Ghraib is an attack against all Americans.
And the Irish mete out their fair share of brutality.
The Wind that Shakes the Barley clearly shows how the peace treaty with Britain divided the IRA.
Some, like Teddy, believe it is an important first step toward independence. Others, like his brother Damien, think the agreement with England is a sell out and demand full independence.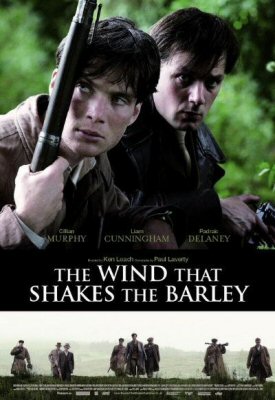 What might interest the audience is how hard liners like Damien hold Marxist ideals about economic as well as social and political equality.
This film is excellent as a historical drama and also as a story about love, friendship, kinship, duty, and national pride. Its effect can be felt even well after it's over.
The Wind that Shakes the Barley, which received the Palme d'Or at Cannes in 2006, is available for rent.
Murphy can be reached at: [email protected]