War Crimes Update 4/5/11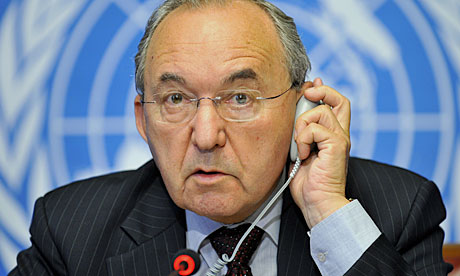 On friday Richard Goldstone walked back his important and controversial 2009 Goldstone Report on potential war crimes resulting from the Israeli incursion into Gaza earlier that year in a Washington Post Op-Ed. He held that while Palestinian crimes were 'of course' intentional, he did not want to second guess difficult decisions made by Israeli commanders in the field. P.L.O. leader Hanan Ashwari has since vowed to continue to seek prosecutions for crimes against Palestinians. Today Israeli Interior Minister Eli Yeshai invited Mr. Goldstone to Israel to tour southern Israeli communities that have endured Palestinian rocket attacks.
Suspended Kenyan cabinet member William Ruto expressed frustration at his own party and blamed Prime Minister Raila Odinga himself for the post-election violence that has led to a war crimes investigation of Mr. Ruto and other current and former member of the Kenyan government. Mr. Ruto flies to The Hague this week to face charges in front of the International Criminal Court.
Bosiljka Mladic, wife of wanted war criminal Ratko Mladic, asked a court in Belgrade to declare her husband dead. She claimed that Ratko is dead and that she hasn't heard from him in ten years. Serbian Radical Party members gathered outside the court in support of the Mladic's, holding signs saying "General, don't give in!" and "Stop terrorizing Mladic's family!"
Rwandan genocide suspect Tito Barahira was arrested in France over the weekend in connection to the 1994 genocide. Barahira is alleged to have organized meetings where plans to attack Tutsi civilians were made, and leading the attack on refugees gathered in Kabarondo church other attacks against Tutsi civilians.
ECOWAS condemned today the massacre in the Ivory Coast town of Duekoue last week perpetrated by Outtarra supporters that resulted in over 1,000 deaths. Mass atrocities have now been committed by both sides of this conflict which appears either to be ready to escalate further or abruptly end. France has ordered an evacuation of its citizens in fear of the former while rumors circulate of Gbagbo making the decision to step down which would signal the latter.