Anna Hazare's Initiative: People's Movement in a Constitutional Democracy?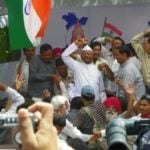 It is important to keep Gandhi untarnished. The Gandhian can be negotiated with.
Two developments in India during the past week convinced me of the above approach in Indian politics. American journalist Joseph Lelyveld's book The Great Soul: Mahatma Gandhi and His Struggle with India created furore in the country. The book has been banned in Gujarat and Maharashtra is considering a ban. The Central government has serious objections to the book.
Anna Hazare, a Gandhian and social activist, began his fast unto death on April 5 to pressurize the Government to legislate a rigorous anti-corruption bill.
Protest or advocacy, Gandhi continues to occupy the centre stage in India.
Anna Hazare is fasting to ensure that the government makes an explicit commitment to the Jan Lokpal Bill (Citizen's Ombudsman Bill). According to Anna the Government proposed Lokpal Bill is "complete eyewash". Rather than strengthen the anti-corruption systems, it demolishes whatever system exists in the name of anti-corruption systems today. It seeks to completely insulate politicians from any kind of action against them." Anna is convinced that a strong bulwark against corruption requires an active role by the civil society. Anna demands to continue his fast until the Government appoints a joint committee comprising fifty percent officials and the remaining citizens and intellectuals to draft the Bill. India Against Corruption is the movement's website detailing the flaws of the current bill and making a case for the new Bill. It also tracks developments across the country in support of Anna's fast.
Anna's is not an arm-chair social reformer. He has launched many (successful and unsuccessful) anti-corruption campaigns. His most laudable act of 'social reform' was the transformation of his home village, Ralegan-Siddhi, from a den of illicit liquor trade and caste divisions to a model of environmental conversation.  Sharad Pawar's resignation from the Group of Ministers on corruption is the latest episode in the long-standing saga of Anna-Pawar duel. In 1994 Anna had launched an indefinite hunger strike in Alandi, an important pilgrimage for the Vaishnavaite sect of Maharashtra against corruption in forest department. He withdrew his 12-day hunger strike only after extracting a firm assurance from then chief minister Sharad Pawar. BJP may now be siding with Anna but in the past two BJP ministers, Mahadev Shivankar and Shashikant Sutar, had to resign from the BJP-Shiv Sena government in Maharashtra in the late 1990s following Anna's anti-corruption campaign.
Given Anna Hazare's background as a soldier and social activist, it is unlikely that he will give in before his mission is accomplished.
Anna Hazare's "unquestioned integrity and unimpeachable credentials" has deepened the moral underpinnings of his demands. B. Raman has used the catchy idiom of recent public protests in Middle East and North Africa by suggesting that "We might be faced with a Jasmine Revolution type situation with the Jantar Mantar in New Delhi from where the movement has been launched becoming India's Tahrir Square." The media is using phrases like 'uprising' 'revolution' 'history in the making' to describe Anna's protest. Though it's too early to fully accept the accuracy of such comparisons, the movement is gaining momentum throughout the country.
Several political parties keen to bandwagon with Anna Hazare have been disappointed by his and his supporters' explicit attempt to distance the movement from all political outfits. Bollywood celebrities have expressed support for Anna Hazare's fast. Anna is gathering support from some unexpected quarters as well. Pappu Yadav, facing a life term in CPI-M MLA Ajit Sarkar murder case, has been fasting along with Anna from his prison cell as a token of support for the cause! Before labelling this support as a sign of India's 'jasmine revolution' a note of caution is essential. Rhetorical support is relatively easy to garner; no sane individual shall 'oppose' Anna's campaign. It remains to be seen how Anna's supporters will use of his favored Jan Lokpal Bill and other available instruments for ensuring government accountability.
Anna's continues to guide the movement and clarify his demands after starting his fast. In a letter to Prime Minister, Manmohan Singh, Anna requested the P.M. to "stop finding faults and suspecting conspiracies in our movement. Even if there were, it does not absolve you of your responsibilities to stop corruption." Responding to the Congress offer to table the Bill during the monsoon session of Parliament, Mr. Hazare said he had no objection to it: "But then what will be the content of the Bill?" He emphasised that if a joint committee was formed to draft the Bill, it should also have UPA chairperson Sonia Gandhi as a member to ensure its effectiveness. Anna has rejected the Government's most recent offer to constitute an informal committee to consider the details of the anti-corruption bill.
Anna Hazare's indefinite fast is not simply limited to the question of corruption but raises wider questions on the working of the Indian political system. Why are elected representative are no longer viewed as 'representatives' of civil society? If citizens can't trust the politicians on one issue, how can trust develop in numerous others tasks relating to public welfare? How will this surge of protests propelled by democracy impact the constitutional structure of the country?
Several limitations of the Jan Lokpal Bill proposed by Anna have been highlighted by observers of the protest movement. (Read here, here and here). Skeptics have also raised concerns regarding the larger implications of the movement on the structure of constitutional government in the country. There are numerous references to Ambedkar's observation that continuation of satyagraha in Independent India could create a 'grammar of anarchy'. According to Pratap Bhanu Mehta, "in a functioning constitutional democracy, not having one's preferred institutional solution to a problem accepted, does not constitute a sufficient reason for the exercise of such coercive moral power." Intellectuals like Bhanu Mehta have raised the efficacy of candle light marches versus systemic reforms in combating problems like corruption. However, in a political system where corruption is pandemic the impetus for change can't be expected to come from within. Politicians and public intellectuals continue to suspect the ability of mass movements to engineer change. People's movements may not be politically refined but this does not discredit its relevance. The notion that popular elections have replaced the need for mass movements in functioning democracies is unappealing.
Anna's movement may not provide the technically best solution to the problem of corruption in India. Gandhian intentions and strategies are not necessarily magical. But Anna's initiative has helped to aggregate citizen dissatisfaction into a movement. This movement may or may not achieve revolutionary changes but it has realized one thing: Re-created space for a non-political people's movement in the country. Discontent has moved out from Facebook pages and twitter timeline to Jantar Mantar. Its achievements may be limited; the 'people' may not understand the constitutional implications of what they are demanding, but it is nevertheless a people's movement. Intellectuals may refer to these people as 'naïve' but rarely, if ever, is 'civil society' in the real sense of the term a conglomeration of experts.
The real test of Anna's initiative in the short term is not what the UPA proposes but how the citizens respond. In a few days State Assembly elections will take place in Tamil Nadu. The civil society, politically referred to as voters, will have an opportunity much bigger than the one demanded by their leader Anna. The fate of the Congress-DMK coalition involved in the 2G scam shall reflect how the 'naïve wisdom' of civil society works when offered an opportunity. The case for public disgust with corruption will suffer a setback if voters re-elect the political parties involved in corruption. Though the alternatives may not be very promising, but dislodging an incumbent government is the best way to express citizen's discontent.
It's important to realize that Anna's demands refer to creating a strong institutional check against corruption in the government. The Jan Lokpal Bill, however, is
not a perfect solution
. Thus Anna Hazare led anti-corruption movement will do itself great service by remaining open to discussion on the exact design of the institutional mechanism. History shall judge the Anna Hazare initiative not on the basis of the efficiency of the Jan Lokpal but by its impact on regenerating popular discontent as a potent force in India.