Director of "Restrepo" killed in Libya
The following is an excerpt from an Associated Press article by Ben Hubbard:
"Oscar-nominated film director Tim Hetherington was killed Wednesday in the besieged city of Misrata while covering battles between rebels and Libyan government forces.
"British-born Hetherington, co-director of the documentary Restrepo about U.S. soldiers on an outpost in Afghanistan, was killed inside the only rebel-held city in western Libya, said his U.S.-based publicist, Johanna Ramos Boyer. The city has come under weeks of relentless shelling by government troops.
"'Tim was in Libya to continue his ongoing multimedia project to highlight humanitarian issues during time of war and conflict,' Hetherington's family said in a statement. 'He will be forever missed.'
"The circumstances of the incident were unclear. The statement from Hetherington's family said he was killed by a rocket-propelled grenade.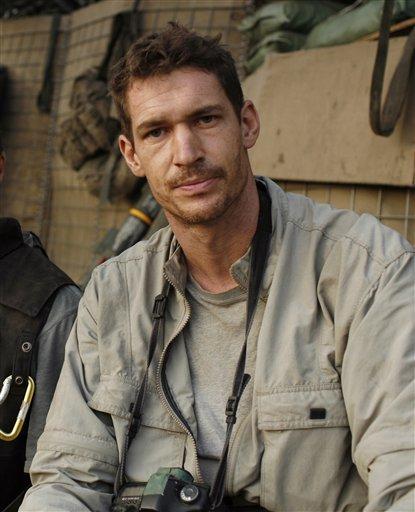 "Gadhafi's forces have intensified their assault on Libya's third-largest city, firing tank shells and rockets into residential areas, according to witnesses and human rights groups. NATO commanders have admitted their airpower is limited in being able to protect civilians in a city – the core mission of the international air campaign.
"Hetherington, 40, was nominated for an Academy Award for his 2010 documentary film Restrepo.
"'He was an amazing talent and special human being,' Sundance Institute spokeswoman Brooks Addicott said in a statement. 'We send our sincere condolences to the Hetherington family, to Sebastian Junger and Daniela Petrova, and to Tim's many admirers all over the world.'
"Restrepo tells the story of the 2nd Platoon of Battle Company in the 173rd Airborne Combat Team on its deployment in Afghanistan in 2007 and 2008. The title refers to the platoon outpost, named after a popular soldier, Juan Restrepo, who was killed early in the fighting.
"'We're at war,' Hetherington said in an interview with the AP before the Oscars. 'We wanted to bring the war into people's living room and put it into the movie theaters, and get people to connect with it. It's not necessarily about moral outrage. It's about trying to understand that we're at war and try to understand the emotional terrain of what being at war means.'
"Hetherington was born in Liverpool and studied literature and photojournalism at Oxford University. Known for his gutsy ability to capture conflict zones on film, his credits included working as a cameraman on the documentaries Liberia: An Uncivil War and The Devil Came on Horseback.  He also produced pieces for ABC News' Nightline.
"Hetherington's photos appeared in Vanity Fair magazine, where he worked as a contributing photographer. He won the World Press Photo of the Year award for his coverage of U.S. soldiers in Afghanistan's Korengal Valley, and released Infidel, a book of photos capturing the lives of the 173rd Airborne Combat Team, in 2010."
The full article can be found here.
A review of Restrepo will appear in this space soon.