Africa Welcome China's 'Solidarity' Investments
The Associated Press (AP) reports about a Press Briefing in China about aid to Africa that I found interesting. As my readers may recall, I've written on this issue.  However, this time Xinhua, the Chinese State news agency and AP are reporting official assertions that China provides aid to Africa out of friendship not resources, said Vice Minister Fu Ziying of China's Ministry of Commerce in response to questions raised on Tuesday during a media conference on China's white paper on foreign aid. China slammed suggestions that its burgeoning foreign aid to Africa is driven by its interest in the impoverished continent's rich natural resources, saying Tuesday that it helps poorer countries out of solidarity and genuine human interest.
China has made significant sacrifices in trying to help African countries lift themselves out of poverty, including the deaths of more than 700 Chinese workers in aid projects, Vice Commerce Minister Fu Ziying told reporters. He said accusations that Beijing's foreign aid to Africa was targeted at securing resources were "nonsense."  Fu was briefing the press on a report on China's foreign aid released last week by the State Council Information Office. The report, the first of its kind, said China's budgeted foreign aid swelled nearly 30% a year since 2004 and totaled 256.2 Bn Yuan ($39.2 Bn USD) from 1950 through 2009.
Interactive Media: Africa-China Ex-Im Trade Data, 2008
The growing pace of Chinese investments is evident in many corners of the developing world: the Chinese are building roads and railways around Africa, textile mills in Syria, cement plants in Peru and bridges in Bangladesh. While welcomed by recipient governments, it has drawn fire — some say resentment — from the US, and other Western donors, who say Beijing's lack of transparency is contributing to corruption and mismanagement.  On-the-other-hand, more credible scholars and pundits have said such complaints are Western angsts about real or perceived threats that China poses on the World stage, and should be taken as just grist for the mill. China's action, they argue, is driven by the need for oil, commodities and other natural resources. Others, Pan-Africanists, would argue that the West's replacement by China still leaves the continent in a client-state status, and not much better off than it's post-colonial past. In addition, they would argue, that Western aid schemes by the World Bank, the IMF and OECD were designed to keep African nations perpetually dependent and indebted to Western finance schemes that robbed nations of the opportunity to develop by creating burdensome debt repayment plans.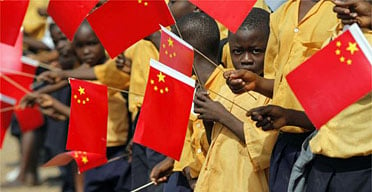 Fu said that despite Beijing's aid to Africa, less than 30% of the continent's total oil exports go to China and that the Chinese also work in African countries with few natural resources, such as Mali.  He added that China's assistance to Africa dates back at least four decades, pointing to the Tanzania-Zambia Railway, which links east, central and southern Africa and was financed by an interest-free loan of about $500 Mn from China between 1970-75.  "In that environment in Africa, where many countries had just become independent and when they were used during the Cold War then abandoned by Western countries, China provided no-strings-attached assistance," he said, adding that 69 Chinese workers died in the construction of the railway.
For a balanced perspective and analysis on this issue, Deborah Brautigam, author of a recent book, The Dragon's Gift: The Real Story of China in Africa, argues that focusing only on the China threat makes us blind to the real opportunities Chinese engagement offers for African development, with an interesting comparison between Western aid schemes, and the Chinese model.  And Foreign Affairs magazine also wrote a series of essays in the recent past examing the issue. African leaders have welcomed Chinese interest, which comes without the onerous economic or political strings often associated with Western investments in Africa.
Source: AP, Xinhua, Guardian (UK)       Image: AP, Reuters        Chart: East Asia Forum