Must See Documentary "Bhutto" Airs Tonight on PBS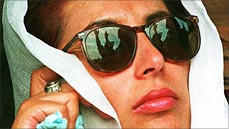 I urge all our readers who live on the East Coast of the United States to tune into PBS stations at 10pm for "Bhutto", a two hour investigative documentary on Benazir Bhutto, the assassinated former Prime Minister and PPP leader.  An examination of the life and politics of Benazir Bhutto -once popular leader, assassinated in 2007, now hagiographically drawn personality- the film is sure to be deeply engaging.  This, especially given the current politics that's resounding inside and out of Pakistan.
If you happen not to have caught the documentary on time, you can certainly find out more about it at the Independent Lens webpage dedicated to the film.