US Court: Rating Agencies May Continue to Mislead
The world's three major credit rating agencies won a HUGE legal decision by the dismissal of lawsuits seeking to hold them responsible as 'underwriters' for aiding & abetting investment firms to structure and assign false ratings, then sell the same securities to unwitting investors that were not worth the 'AAA' ratings they were assigned.  Wednesday's ruling by the Federal Court of Appeals, 2nd Circuit in New York was a victory for McGraw-Hill Co's (MHP.N) Standard & Poor's, Moody's Corp's (MCO.N) Moody's Investors Service and Fimalac SA's (LBCP.PA) Fitch Ratings. The decision was also previously upheld by three lower-Court decisions.
Rating agencies have been widely faulted – including by the US Congress – for contributing to the Global financial crises that began in 2007 by issuing high ratings on junk debt securities, such as credit default swaps (CDS) that proved risky, and which the noted investor, Warren Buffett, called 'financial weapons of mass destruction.' The ratings agencies have come up with an ingenious defense by arguing their ratings were 'opinion' protected by free speech protections of the First Amendment.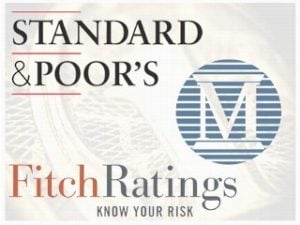 In Wednesday's case, plaintiffs including public & private pension funds who invested the retirement assets of workers all over the United States, State treasurers and other investors had between 2005 and 2007 bought more than $155 billion of mortgage-backed and other securities, including many with the highest "triple-A" ratings, that lost value when they were later downgraded. This ruling is a set-back for ordinary working Americans, the Middle-class, and individual investors everywhere.  Read more here.
Source:  Reuters                               Cartoon:  Washington Post