30th Anniversary of Bob Marley's Death Marked Around the World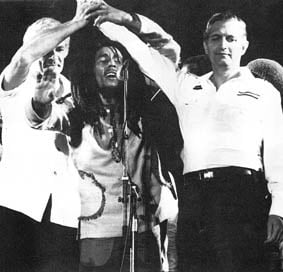 The 30th anniversary of the death of one of the world's most politically influential musicians was marked around the world yesterday, highlighted by the opening of an exhibition on the reggae singer's life at the Grammy Museum in Los Angeles.
Music fans and political observers around the world marked the occasion by reflecting on the legacy left behind by the Jamaican singer and guitarist, who championed civil rights, peace and justice around the globe. Marley, who adhered to the controversial teachings of the Rastafari movement, supported liberation movements across Africa in particular, and played a key role in his own country in forging ties across political parties.
"His greatest achievement was that he continues to inspire," said Marley's son, the accomplished musician Ziggy Marley.
This sentiment was echoed across the globe. In Ghana, the first country to gain its independence from colonialism, Ahuma Bosco Ocansey, president of the Rastafari Council said Marley would have supported the wave of liberation movements taking place across the Arab world and North Africa today.
Horace Campbell, a professor of African American studies and political science at Syracuse University, praised Marley for his role in drawing attention to Apartheid in South Africa by performing at the liberation celebrations of Zimbabwe in 1980. "Marley was very conscious that the African revolution and African unity were inseparable," he writes in Pambazuka News. "This call for African unity from the grassroots is as urgent today as it was 31 years ago when Bob Marley uttered these words of unity from the stage in Harare, Zimbabwe."
The appearance also marked the embrace of reggae music across the continent, inspiring home grown artists like Luke Dube, Alpha Blondy and Tiken Jah Fakoly, not to mention a slew of socially conscious rappers like K'Naan and Darra J — all of whom continue to speak out lyrically against corruption and for human rights in Africa and beyond.
"Zimbabwe" by Bob Marley
Every man gotta right to decide his own destiny,
And in this judgement there is no partiality.
So arm in arms, with arms, we'll fight this little struggle,
'Cause that's the only way we can overcome our little trouble.

Brother, you're right, you're right,
You're right, you're right, you're so right!
We gon' fight (we gon' fight), we'll have to fight (we gon' fight),
We gonna fight (we gon' fight), fight for our rights!