Road to Deauville G-8: What's on the agenda?
President Barack Obama arrived in Europe this week beginning a six-day trip that seeks more resources to promote and support the pro-democracy movements in the Middle East and North Africa that has emerged as a priority on the international agenda. President Obama began in Ireland where he visited the birthplace of his great-great-great-grandfather in Moneygall, a town with a population of about 300. He  delivered remarks at Trinity College in Dublin and met with Irish President Mary McAleese and Prime Minister Enda Kenny on Monday.  The six-day trip is anchored by President Obama's official State visit hosted by the Brits, and an address to the UK Parliament on Wednesday, May 25 in where the president will seek to reaffirm and refine the trans-Atlantic alliance amid economic and political upheaval. The president's remarks to Parliament will seek to 'reframe' the US-European relationship, said Heather Conley, director of Europe Program at the Center for Strategic and International Studies in Washington.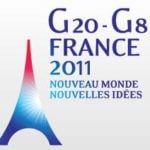 He also will attend a meeting of leaders from the Group of Eight (G-8) nations in Deauville, France at which the battle over IMF succession, and turmoil in the Middle East and North Africa will be a prime topic. On the IMF succession issues, France's finance minster, Christine LeGarde is the front runner. However, several emerging nation candidates have also been suggested central bank governors such as Mexico's Agustin Carstens; South Africa's Trevor Manuel; and China's Zhou Xiaochuan. Also at the top of the agenda are plans for accommodating and integrating Africa into the global economic framework.  Sub-Saharan Africa is home to 1 billion people, and according to the United Nations, that number is estimated to increase to 1.8 billion and account for 20% of the world's population by 2050.  Along with China's recent interest in the 'Dark Continent', this impending growth has stimulated greater Western interest in Africa's emerging markets and governance. The 2011 G8 discussion will focus on opportunities in Africa and explore means to encourage the development of the private sector.  With the US as a primary investor, and half of its investment portfolio in Africa, the Millennium Challenge Corporation (MCC) is an important voice in this week's G-8 conversation.  The MCC is building capac­ity, strengthening relationships, improving the business environment, and creating opportunities for increased bilateral trade with these emerging African economies.  "This is a very important trip for the president to reaffirm our core alliances in the world," Ben Rhodes, deputy national security adviser, told reporters in a May 20 preview of the president's trip. Europe and the US are "bound by a set of values" that have resonance "at a time when we see people reaching for those values around the world," he said.
Interactive Media: Live Updated Coverage of the Deauville G-8 Summit
Another goal of the G-8 summit in Deauville, France, on May 26- 27 will be an expected agreement drawing from the president's address last week which framed US policy in the wake of pro-democracy movements sweeping through the Mid-East region, said Michael Froman, Obama's deputy national security adviser for international economic affairs. The president will ask G-8 member countries to support "financial stabilization, modernization and reform of the economies in the region," he said.  President Obama has proposed $2 bn in US assistance for Egypt, $1 bn in loan guarantees through the Overseas Private Investment Corp (OPIC), and cancellation of $1 bn in debt, about a third of what Egypt owes the US. The administration plans to work with Congress to create "enterprise funds" to invest in Tunisia and Egypt, modeled on similar funds that supported democratic transitions in Eastern Europe.
The US also is asking the World Bank (WB) and International Monetary Fund (IMF) to present a plan at the G-8 summit for what needs to be done to stabilize the economies of Egypt and Tunisia, Obama said. He also wants the European Bank for Reconstruction and Development to refocus on aiding the region and for the US and European Union to promote increased trade opportunities.
The trip comes on the heals of President Obama's address to AIPAC – a pro-Israel lobby interest with a disproportionate influence on US foreign policy – where he repeated a pre-existing US policy that long-stalled peace talks should start on the basis of the Israel's 1967 borders, an assertion that had infuriated Israeli leaders, exposed a rift between the two allies although this was a reiteration of pre-existing US policy under two previous administrations.
But President Obama's speech to Washington's powerful pro-Israel lobbying group on Sunday seemed to soothe contrived 'tensions' with Jewish voters. The president stressed that he expected the two sides to eventually reach an accord that included land swaps that would take into account the "new demographic realities on the ground," signaling that Israel should be allowed to keep some Jewish settlements built on occupied land in exchange for land swaps. He also pressed Israel to "make the hard choices" for peace. An aide to Palestinian President Mahmoud Abbas said: "We appreciate President Obama's stated position regarding a state on the 1967 borders, it is a step in the right direction."
On Sunday, the President reiterated the "principles" he outlined on Thursday in a speech on Middle East upheaval. At issue is Obama's explicit statement of previous administration's Israeli policy. The proposal would call for negotiated land swaps for Israel to retain some large settlements in the West Bank. The President chided those who he said had "misrepresented" his position, a slap at Netanyahu, who had seized on the notion that he was being asked to return to 1967 lines while ignoring the president's stipulation there would be land exchanges. "By definition, it means that the parties themselves – Israelis and Palestinians — will negotiate a border that is different than the one that existed on June 4, 1967. That's what mutually agreed upon swaps means," Obama said. "It allows the parties themselves to account for the changes that have taken place over the last forty-four years. … to take account of those changes including the new demographic realities on the ground."
President Obama's Israeli policy outline is consistent with policies by former Presidents George W. Bush in 2004; and Bill Clinton in 1999 saying it was "unrealistic" for Israel to return to old borders and suggesting it may keep settlement blocs under any peace pact by trading adjacent Israeli land tracts. Despite that, the president's stress on pre-1967 borders put the United States formally on record as endorsing the old boundaries as a starting point, something the US embraced privately dating back to the Clinton administration. President Obama's aim was to draw Palestinians back to the table and head off their UN statehood drive, after US brokered peace talks collapsed late last year when Netanyahu refused to extend a moratorium on settlement building in the West Bank.
Sources: Bloomberg, Reuters  Videos: Reuters, AP, WhiteHouse.gov