Competing Political Rallies in Yemen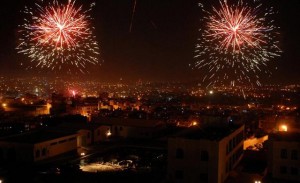 On Thursday evening, embattled and injured Yemeni President Ali Abdullah Saleh made his first TV appearance since the attack on his compound only a few days ago. The speech, which essentially conveyed no specific message other than that he was still very much alive and kicking, ignited an array of feelings amongst his fellow countrymen.
Despite the casts on his arms, his darken face and somewhat diminished demeanor; supporters of the long standing autocrat manifested their joy in the capital and across the nation by firing guns in the air.
The Message
After weeks of suspense and many conspiracy theories, President Saleh put to rest the rumors that had him dead when he decided to address the nation from his hospital in Riyadh.
Although Saleh thanked his vice president for holding the fort for him and accused the opposition of being undemocratic, he made no mention of whether or not he would return and resume his functions. He made a vague conciliatory attempt by promising to negotiate with the various political factions but nothing ground breaking. "His speech didn't offer anything new. It's the same thing he used to say before the attack. You don't feel there's any real commitment to transferring power, but rather that the situation is heading back to square one," said a leader of Yemen's main opposition bloc to Reuters.
The Qatari newspaper al-Watan dismissed Saleh from the presidency completely, writing that by allowing the public to see him in this state, he proved that he was no longer able to run Yemen.
Other political analysts, including Theodore Karasik, the Director of research and development at the Middle East think tank INEGMA, advanced the possibility that President Saleh was actually a prisoner of the Saudis, rather than a guest. "I think we need to start considering whether Saleh is a guest or a prisoner, and will he be able to return to Yemen at all," said Karasik.
But mostly this presidential speech was addressed to Saleh's supporters. After 5 months of continuous protests, many defections and increasing pressure, pro-Ali groups needed this injection of hope.
Since Saleh's departure for Riyadh, the international community and the opposition exerted much pressure on Vice President Hadi to start a transition of power as stated by the Yemeni Constitution. However, loyal to Saleh, VP Hadi held firm and refused to give in to the political blackmail.
Maybe more than promising the return of Saleh as President, the real message was that the Saleh's legacy is not dead and that the clan could still hold on to power.
The Crowds
As predicted, supporters of the President manifested their joy by firing their guns into the air, lighting the night sky of the capital with all types of ammunition and fire arms. Then came the fireworks- for hours Yemenis sat under a thousand lights, wondering if the celebration would be the starting point of Yemen's civil war.
Medical sources reported that at least 11 people died as a result of the shooting spree, fallen victims of stray bullets.
On Friday, a large crowd of pro-Ali supporters gathered in front of the now abandoned Presidential palace, holding banners and posters of their President. However, although the turnout was much larger than in previous weeks, their numbers were nothing compared to that of the President's opponents.
Across the country, Yemeni cities rose by hundreds of thousands in protest of the regime.
And if in previous weeks the numbers of protesters were dwindling due to a number of factors, Ali's speech became the catalyst for a new found determination among the population. Because if Yemenis do not always see eye to eye when it comes to politics they all agree that Saleh and his family have to go.